If any family has had it rough in recent years, it is the Travolta family. Tragedy after tragedy fell upon the family, but it seems things are finally making a turn for the better!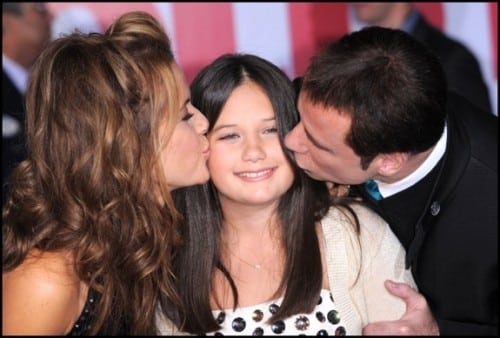 At the age of forty-eight, Kelly Preston gave birth to a son just before Thanksgiving. Little Benjamin has had a positive influence on the couple and their daughter Ella, and now they are opening up about his delivery and what their lives have been like since his arrival.

This morning Kelly visited The Today Show to talk about baby Benjamin with Natalie Morales. She opened up about returning to work after delivering Benjamin. She stars in Casino Jack with Kevin Spacey, and his support was a part of her return:
"(Spacey) was a lifesaver, really. I mean, at that point, I really didn't want to go back to work. But each day, and they condensed my work down to a couple of weeks, which was really nice. But every day, he's so … he's so naturally funny. And he made me laugh. And that was the greatest — the greatest gift he could've given to me while we were working."
The actress also spoke about the birth process. As a Scientologist, the couple had a silent birth for Benjamin. Kelly described the process as follows:
"Silent birth is basically just no words, as much as possible. If you need to moan, if you cry out, you know, all of that of course, that's normal. Just bringing them in as peaceful and gentle a way as possible."
The new mom isn't the only one speaking out today. Travolta also spoke with Entertainment Tonight exclusively saying,

"I think with our third child here we are a lot calmer about everything that's going on … consequently it's caused a much calmer baby too. He's a very happy baby. Benjamin was bright and aware and seemed very comfortable with being out of the womb. Holding him was just such a satisfying experience because I hadn't had it in so long. He was so happy to be in my arms."
It sounds like the family is back on track. Congratulations to them!

Related Articles:
{WENN photos of the family from The Old Dogs Premiere in 2009}
---
[ad]