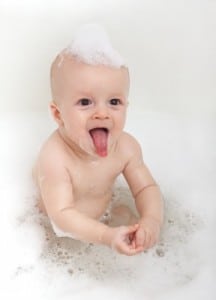 Bathtime at our house is filled with bubbles, toys and laughter.  Their favorite time of the day, I have been known to make a warm bath in the morning if one of my boys wakes up on the wrong side of the bed.
Regardless of what time it is their time floating around in the tub relaxes and calms them down.
When my son(7) was little I would order his bath & body products online from the U.S. in order to get items that were free of harmful chemicals.    It really was a pain to have them shipped here every time we ran out but it was important to me to use soaps and lotions on him that wouldn't irritate his skin and put his health in jeopardy.  By the time my second son arrived pharmacies were starting to carry purer products but they were still really expensive.
It really frustrated me because parents shouldn't have to sacrifice budget for safety.
In 2010 when Johnsons & Johnsons introduced their Johnson's natural line I was eager to try them out.  Offered at a more reasonable price point, this collection is paraben-free, dye-free and phthalate- free.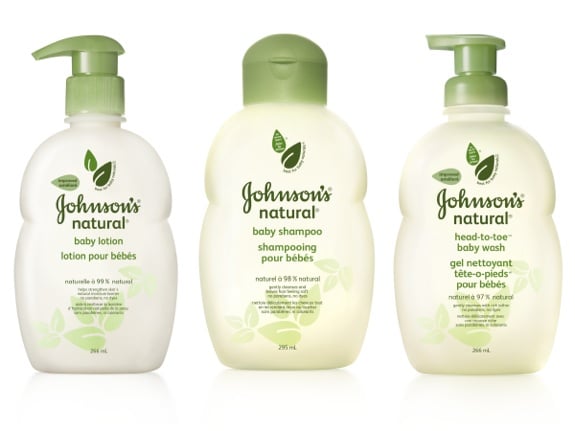 As part of a campaign with Johnsons & Johnsons we have been using their Johnson's natural head-to-toe baby wash, Johnson's natural body lotion and Johnson's natural baby shampoo at bathtime with our boys(4 & 7) for the last few weeks.  Different from our normal brand, I wasn't sure if we would have issues from switching but that hasn't been the case.  Neither my husband or I have noticed any dry skin or irritation with either of our two.  I have found it does a good job of getting them clean and didn't leave a residue when we rinse them off.
Created from 97-99% naturally derived ingredients, the Johnson's natural baby products do still have a scent, but it is mild and not overpowering.
Sometimes as a parent you feel like you have to micro-manage every last detail of every product that comes in contact with your family.  Dyes, parabens and phthalates have been long know as endocrine disruptors, which means they 'interfere with the proper functioning of the endocrine system, which controls the production and release of hormones.'
Removing these from our daily routine – especially that of small children is very important for life long health.
---
"Product provided as promotional consideration to Lisa and her family by Johnson & Johnson Inc."