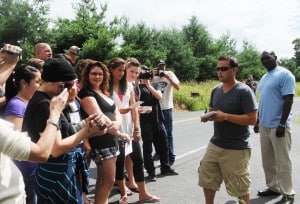 According to People.com Jon and Kate filed documents to initiate a legal split at the Bucks County Courthouse in Reading, Pa., this afternoon.
This will not come as a surprise to anyone who has watched the show. The pair, who long maintained a tense relationship, have recently been divided on whether or not to continue their TV show, with Jon wanting a less high-profile life, while Kate appeared to remain committed to staying in the public eye.
Today, Jon told RadarOnline.com that he has "no idea" when Kate would be coming home.
"I've been by myself for four days," he said. But when asked if he's happy she's gone, he said: "No, because I'm down a person."

He did say the kids were anxious for their mom to return, although when asked if he knew where she is and when she'd return to their $1.1-million estate, he answered "nope" to both.

Additionally, Jon gave another impromptu press conference to fans and reporters Sunday afternoon in fron of his property.

He told onlookers that he wasn't speaking to Deanna Hummel — the school teacher with whom was reported to have had an affair with — "as much" since "the things went down."
Very Sad. No one wants to see a family torn apart.
---