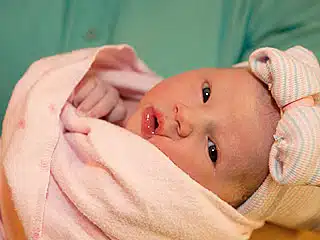 Congratulations to Josh and Anna Duggar on the safe arrival of their first baby – a girl!
Mackynzie Renée Duggar was born at the home of her parents, Joshua and Anna, with a midwife and doula attending the birth. "Josh was excited to participate in the birth as well," says a family friend. "They are both so happy."
Josh has been front and center in his wife's first pregnancy – telling her the news that she was pregnant after she was too nervous to look at her own pregnancy test, and reading and singing to his daughter before she was born.

"I ask Anna what she needs," Josh told People in July. "I talk to the baby and we involve her in our conversations. When Anna and I are talking to each other, we'll say, 'So, how do you like that, Mackynzie?' "
Although Mackynzie is his first child, Josh knows all about raising babies. He's the oldest child born to the Tonitown, Ark.-based Jim Bob and Michelle, who also are the biological parents of twins Jana and John-David, 19; Jill, 18; Jessa, 16; Jinger, 15; Joseph, 14; Josiah, 13; Joy-Anna, 11; twins Jedidiah and Jeremiah, 10; Jason, 9; James, 8; Justin, 6; Jackson, 5; Johanna, 3; Jennifer, 2 and Jordyn-Grace, 9 months.
The newest Duggar's name came from a combination Josh's cousin's name (Mackynzie) and Anna's middle name (Renée), but the couple hasn't completely committed to "M" being the letter to begin all their children's names. The Duggars famously have chosen "J" names for all their children.
Mackynzie wears a newborn hat($12) from Tweetlebugboutique.com . SO cute!
---