Even though my kids are way past the diaper stage I continue to collect diaper bags like a mom-to-be because I love the styles and the organization.  By definition, a diaper bag is designed to help parents keep everything in designated spots while out to minimize stress when your child throws up all over themselves or has a blowout as you are arriving at church.
Ju-Ju-Be is one of my favorite brands for diaper bags because they add a lot of great features to help keep everything where you need it while out.    Their bags also come in a large variety of modern patterns that I love.
I have a few of their bags and carry each one for different reasons.  The Be Right Back is my go-to travel backpack, the BFF is perfect for day trips and my Be Classy is a great tote for shopping trips and 'nicer' outings.  I use their Fuel Cell for my lunches and carry my laptop on one of their fashionable sleeves.  As you can tell I love their line!
Introduced at the end of last year, the Helix has quickly become the bag I take when we are traveling lighter, but still need to bring drinks, snacks and a camera.  I got it while at the ABC Kids Expo in Las Vegas in October and used it during the day at the trade show, but also at night when we were hitting the town and I still needed to bring a few things with me.
Designed in a messenger style, it comes in 2 patterns that are perfect for both mom and dad.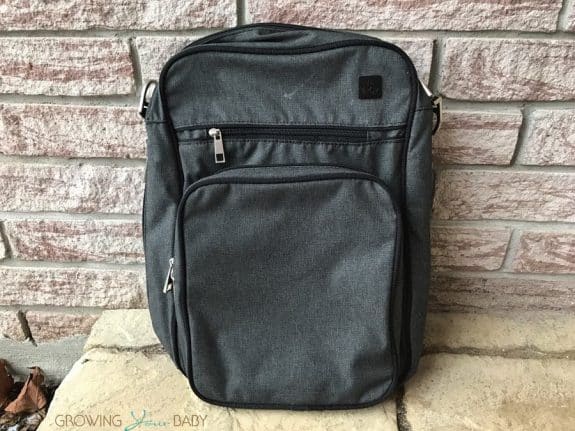 We have it in the Chrome, but it is also offered in the Black Ops as well.  Ju-Ju-Be has also carried this pattern through into some of their other bags like the Be Classy, the Fuel Cell, Be Quick and the Paci Pod.  Over the past couple years gray melange has been a big trend in baby gear so there is a high probability your bag will match your stroller or car seat if that's something you are hoping for.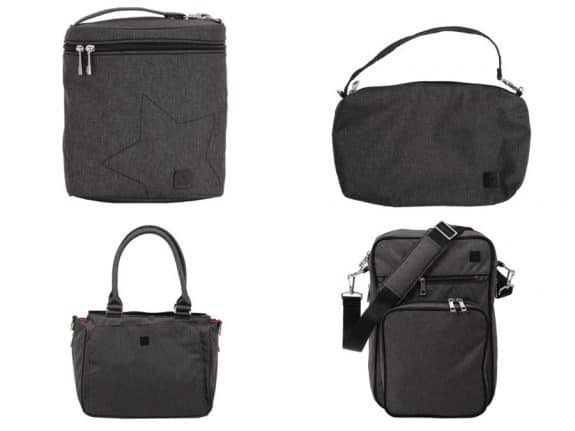 The Helix comes with an easy to access front pouch with 2 velcro pockets to store your keys, money or quick grab items.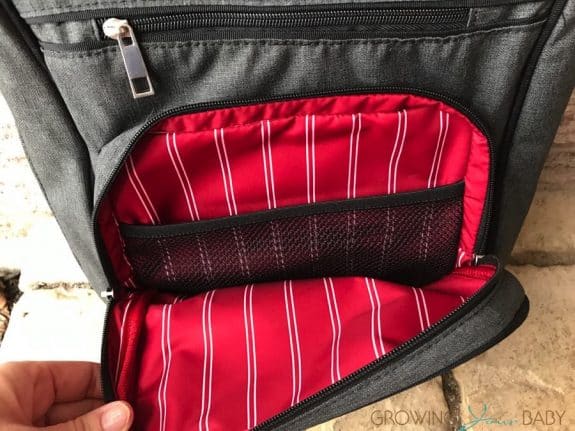 Above that pocket is a lined storage pocket perfect for holding your sunglasses or phone.  If you can't figure out which one gets the honor, there is a second one of these pockets at the back.  The material in these pockets is soft enough to protect your precious gear and keep it from getting scratched.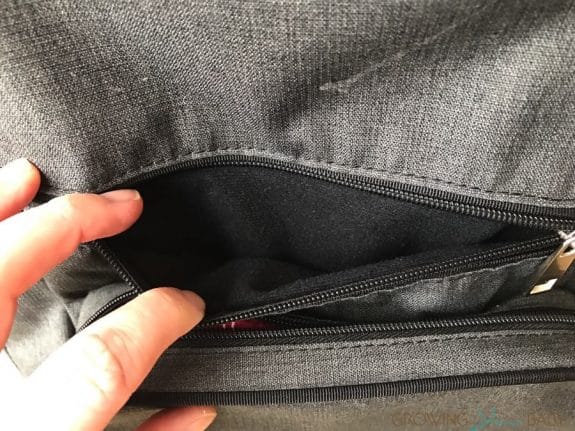 On each side, you'll find 2 interior insulated bottle pockets with Thinsulate by 3M to keep your child's bottle cool or warm.  I like that Ju-Ju-Be has recessed the pockets as it gives the bag a sleeker style.  These pockets won't fit a big water bottle, but just something the side of a baby's bottle.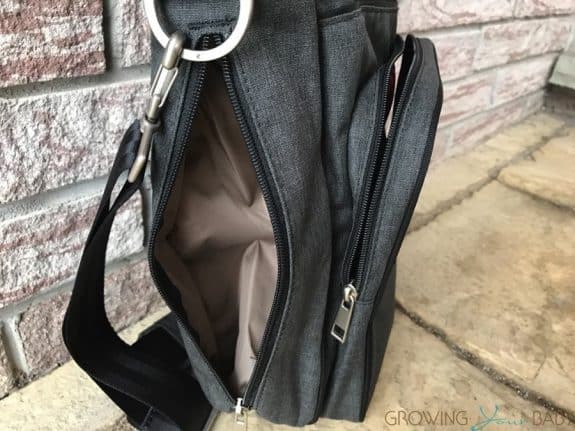 The main compartment comes with 3 gusseted pockets around the outside and a good sized center area for holding a sleeper, wipes or a burp cloth.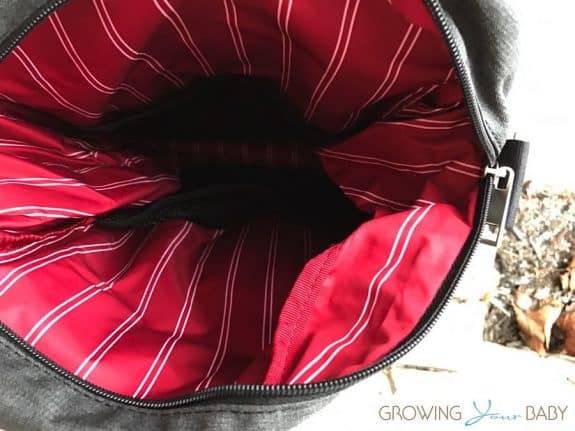 Ju-Ju-Be always lines their bags with a contrasting material to prevent the main spaces from turning into a black hole.  This bag comes with a modern red striped pattern that I love.  That material also features the Agion® treatment to protect the liner by inhibiting the growth of odor-causing bacteria, mold, and mildew.
At the back below the second lined pocket, the company has tucked away a change pad.  It doesn't have the memory foam we normally see on Ju-Ju-Be's change pads, but I think that's because they wanted to keep the bag less bulky.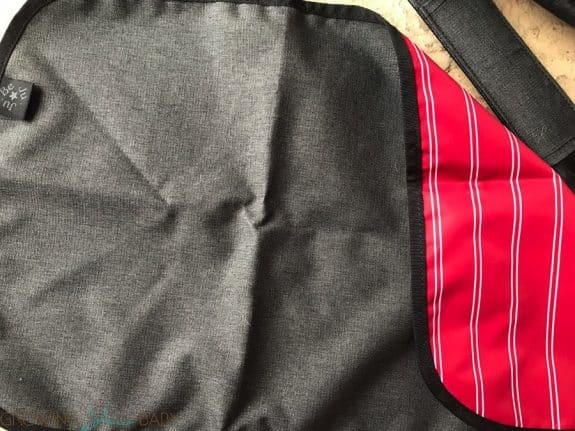 The should strap can be adjusted to parents of all heights and hung over the handlebars of your stroller.
The best feature of all is the bags ability to be machine washed.  So don't fret if it falls in the dirt, gets kicked around by your kids or just gets dirty from life…  Throw it in the washer, hang it to dry and re-load.  It's THAT easy!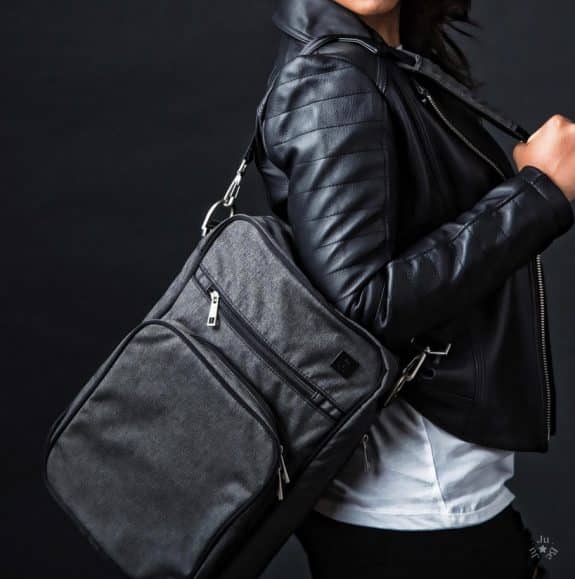 ---
[ad]
Save