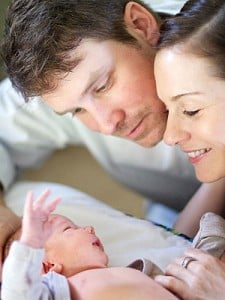 After spending time as a judge on the hit show "American Idol," Kara DioGuardi became as common of a household name as the artists she writes songs for. Even though she's no longer on the show, she's still helping artists like Pink and Kelly Clarkson top the charts. But this 42-year-old has been taking care of more than just her career; she's also been taking care of her health…in way that some might consider extreme.
"I had a 70 to 80 percent chance of breast cancer, and a 20 to 40 percent chance of ovarian [cancer] in my lifetime," Kara revealed in a new interview with Access Hollywood.
Kara's mother, Carol, died of ovarian cancer back in 1997. After hearing a news report about the BRCA Gene – a genetic mutation linked to an increased risk of hereditary breast or ovarian cancer – Kara decided to take a blood test in December of 2011 to check for the gene. After learning that she did, in fact, have the mutation, Kara made a difficult and extreme decision.
"I had a complete hysterectomy in December of last year," she said. "I arrived at that decision because I knew the statistics. I knew that if I had a prophylactic hysterectomy, that it would diminish my chances of both breast and ovarian cancer. I'm actually going to go in for a prophylactic mastectomy, and once I do that, it diminishes my chances to five percent that I would get breast cancer…The way they do things today – they take out your healthy tissue and they build you a breast. It's kind of like a good boob job, you know? I'm actually kind of looking forward to going up a size. I'm going to look at it that way."
But despite the fun-natured comments, Kara says it wasn't a decision that she reached easily, nor was it a decision that came without strong, upsetting feelings.
"I would say…to my husband [Mike McCuddy], 'Do you think I'm still a woman?' He's like, 'Honey, of course you're still a woman.' And it was nice to talk to him about it and he alleviated my fears," she said. "I think the hardest thing for me was knowing I would never give birth to my own child."
Kara and her husband had started trying for a baby back when Kara was 38. But things didn't go as they'd hoped. Kara suffered from a miscarriage while on "Idol." She'd started trying to conceive with fertility treatments when she'd discovered that she had the BRCA gene. After trying, and failing, at one more round of IVF, she decided not to wait any longer for the hysterectomy. That decision would ultimately alter Kara's road to motherhood.
"They tell you that you should have the surgery before you're 40. I was 41," Kara said. "So I thought, you know, I'm not going to mess around anymore. I'm going to ask this woman I know who would be an incredible surrogate and I'll go through the IVF and I'll transfer the embryos to her…[My surrogate] got pregnant on the first try."
So now, at the age of 42, Kara is enjoying motherhood.
"Grayson is 3 months and he looks like he's 6 months," she said. "He's got a huge gut! Everyone says, 'What do you feed this child?' I'm like, 'I don't know what to tell you. He likes to eat.'"
Best of all, Kara is able to be a mother with a little less worry about leaving her son and husband behind; a pain that she understands all too well.
"I can feel my mom. I can feel her," Kara said. "I think she would love my husband and I know she'd be all over my little son. And my son is named Grayson James Carol McCuddy, after my mother."
---