The Dutch word "kast" means closet or cabinet, but a "kast van een Huis" means an enormous house. Kast van een Huis furniture is both! This unique Dutch furniture company has created some very unique wardrobes, closets, sofa beds and custom furniture that look like the typical tall houses found in old Amsterdam.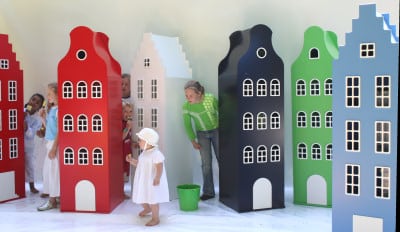 Parents who are looking to furnish their children's room with furniture that won't be had by the rest of the neighborhood will find a host of custom options including room-dividers, headboards, bookcases, toy boxes and computer cabinets.
Kast van een Huis brings a truly extraordinary line of children's furniture to the market! Who hasn't imagined being 60 feet tall at least once? Now kids can imagine being all sorts of enormous creatures each time they use their closets! Perhaps this will entice to actually put away their clothes as well…Brilliant!
The closets come in three sizes and three gable types: the bellgable, neckgable and treppegable. They also come in a variety of standard colors: black, white, red, green, pink and blue, but custom colors are also available for a truly unique look. – Belinda, Staff Writer
---
Related Articles:
---
[ad]