If you had your child 7 years ago then you are probably facing the same predicament as me – your car seats are starting to expire. And while many of my friends who have kids my son's age are just going to boosters I want to know that my boys will be protected if we are even in a serious crash.  For this reason I was THRILLED when Britax announced their Pinnacle CT car seat earlier this year.  Unlike any other seat on the market the Pinnacle CT has a 5-point harness weight to 90lbs!!  Yes you read that correctly – 90lbs!!! (please read notes below about new weight limits for this seat.)  I'm in love.  My boys will officially be in 5-point until they hit high school.  (joking – well not really!)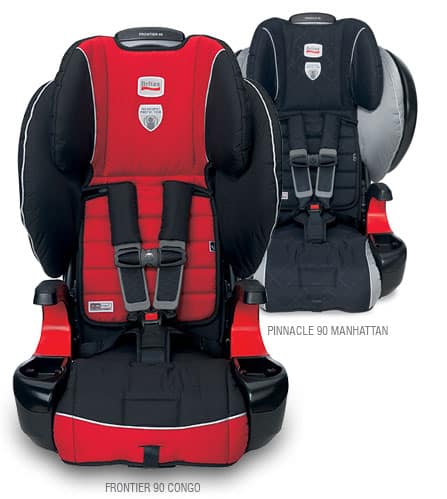 Weigh limit aside, the Pinnacle CT also has a LONG list of safety features to keep your precious cargo safe.  The last Britax seat we reviewed was the Frontier XT.  Both my boys are fond of this seat because it is very spacious and is designed in a way that is more mature than a 'baby seat'. So when I installed the Pinnacle CT they were both thrilled to have similar seats and the fighting ended over who got to sit where.
Unlike most convertible car seats, the Pinnacle CT is only for children two years of age who weigh between 25 and 65lbs, and stand 30″ – 58″.
The Pinnacle CT seat can be installed 2 ways; using LATCH or with your car's seat belt.
Upon first inspection I was a little confused as to where the LATCH connectors were hiding. It wasn't until I lifted up the clicktight that I spotted a sticker that read 'NOT REQUIRED FOR CLICKTIGHT USE REMOVE ONLY FOR LUAS INSTALLATION'. Underneath the LATCH connectors were hiding. After removing the connectors, feed them through the pass through and they are ready to be secured into the lower connectors in your vehicle.
Once in the vehicle the seat was very easy to adjust to my son's height.  The Five-Point Harness has 9 harness height positions -up to 20.5" and the the guide uses Britax's Harness Ultra Guard System (HUGS) which provides resistance to forward movement in the event of a crash.
As expected the cupholders were a hit for the kids as they provided a space for drinks and the toys they insist on bringing along when we go out.
On either side of the seat there are two cushions that were designed to reduce side impact crash energy by diverting crash forces before reaching your child and providing extra protection for the adjacent passenger. This is the first seat we have tested with this feature and I like it.
At the bottom of the seat a honeycomb is visible, which compresses during an accident, thus significantly lowering the center of gravity and reducing the forward movement of the car seat.
I am very fond of this seat and recommend it often to friends and readers who are looking for the next step up from the convertible seat. It is big, but I love all of the incredible safety features Britax has packed into it.
In the past my husband has been the car seat installer in our house because he is stronger than me and is able to get them tight enough so there is virtually no movement.  But when we went away a couple weeks ago, and left the boys with my parents, and I had to install both seats in their Camry. I can honestly say I was really impressed by how easy this seat is to install, both with the LATCH and with the car's seat belt. Plus, if you need help installing the seat instructions are printed on the side of the seat, and videos are available on Britax's site.
UPDATE:  Parents should be away that if their child weighs more than 39lbs, this seat should be installed with the car's seat belt as part of  NHSTA's 65lb LATCH Rule.  In addition, Britax reduced the weight limit of this seat to 65lbs 
---
[ad]