First look!  Actress Keira Knightley and husband James Righton showed off their daughter Edie for the first time while on a walk in New York City on Monday(August 31, 2015).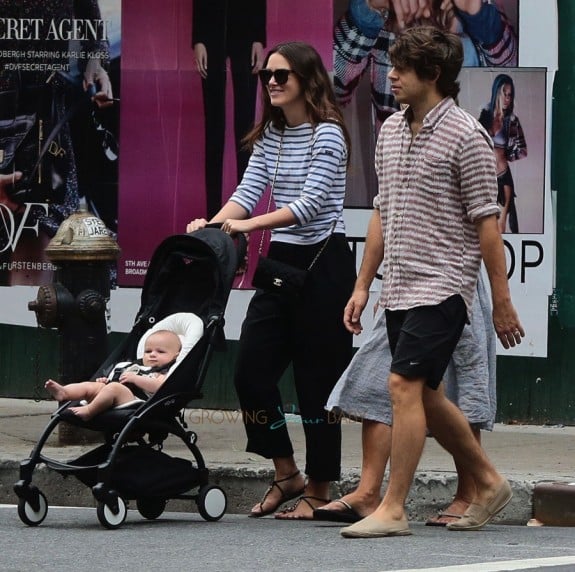 The little cutie, who is now 3-months-old, was in good spirits while riding in a BabyZen Yoyo stroller as the family strolled through the Big Apple.
During a recent interview with Elle Magazine Kiera revealed that becoming a had its ups and downs.
"The love thing is astonishing. It's a very primal, primal love. That's quite extraordinary. And the ability to have no sleep and continue going. It's not pleasant—I never thought that I could actually do it for the amount of time that I've done it. Also, I have to say, as a woman, you hate certain parts of your body. You go through those periods where you look in the mirror and you think, Oh, if only I had different legs or arms or whatever. You go through pregnancy and labor and then feeding the kid and you go, Wow, my body is totally amazing, and I'm never going to not like it again, because it did this, and this is f**king extraordinary."
The family will be in New York City for the next few months while Keira plays Thérèse in the Broadway revival of Thérèse Raquin.
The production will begin previews Oct. 1 prior to an official opening Oct. 29 at Studio 54.
{FAME/FLYNET}
---
[ad]