Ahh, the lifestyles of the Rich and Famous… Keith Urban and his daughters Sunday Rose and Faith Margaret were spotted heading out of town on a private plane at Van Nuys Airport in Los Angeles.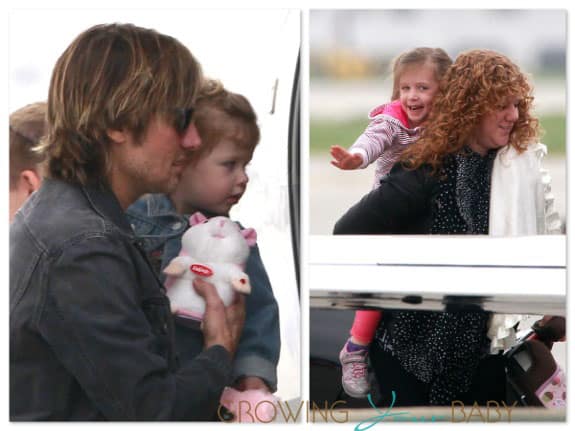 The singer carried his youngest daughter and her stuffed hamster as he boarded before daughter Sunday and a friend.
Currently a judge on American Idol, Keith and his girls were likely headed to Vegas where they are finishing up the Semi-finalist rounds.
Keith recently told Country Music Tattle Tale the girls recently visited the set.
"They actually came down to the set yesterday for a little while.  Nic and I love them being around that kind of environment, watching people sing, watching them perform and being around the music. It's … being around that and being around the movie sets since they were born. They're certainly music fans. They haven't watched the show yet, but I have a feeling they will be this season."
When he's not working they like to have have a bit of fun.
"We have instruments around the house and I sit at the piano and play with both the girls" adding, "Just this morning I had the music cranked up during breakfast and they would sort of eat a bit and then start dancing around the floor and then go back and eat a bit more and then dance a bit more. I just thought, 'What an awesome way to start the morning, having a little food and dancing.'"
I agree!
---
{PACIFIC COAST NEWS}
---
[ad]