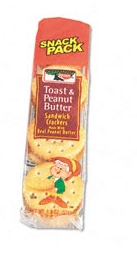 Kellogg Co said on Wednesday it was removing its Austin and Keebler branded peanut butter snacks from store shelves and put a hold on their shipments due to the current Salmonella food poisoning outbreak.
But the company said its own investigation has not indicated any concerns over its products, nor has Kellogg received any consumer illness complaints.
U.S. health authorities have reported that since September, the salmonella food poisoning outbreak has sickened at least 410 people in 43 states.
Kellogg said it is taking precautionary measures including putting a hold on any inventory in its control, removing products from retail store shelves, and encouraging customers and consumers to hold and not eat these products until regulatory officials complete their probe.
The products are Toasted Peanut Butter Sandwich Crackers, Peanut Butter and Jelly Sandwich Crackers, Cheese and Peanut Butter Sandwich Crackers, and Peanut Butter-Chocolate Sandwich Crackers.
---