On the move! Kelly Rutherford was spotted out in New York City with her daughter Helena, 4, son Hermes, 6 and the family dog Oliver on Sunday.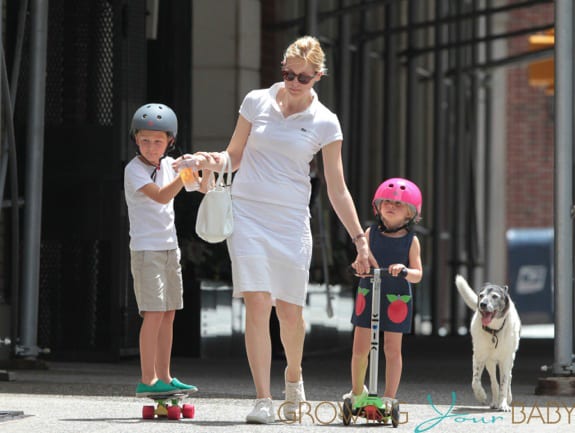 The kids, who have been in France since last Summer, scooted through the streets of the city while their dog followed closely behind.
For the last year Kelly has fought her ex-husband Daniel Giersh for custody of the kids.  Last August a judge ordered them to live in France with him after his visa was revoked.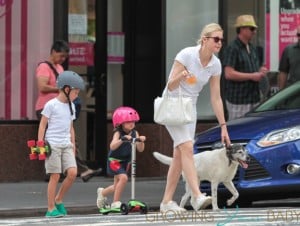 Since that time Kelly has spoken openly about her struggles with the arrangement.
"I've traveled 40 times to either facilitate contact with their dad or visit them and bring them back and forth and paid for everything.  Every penny from 'Gossip Girl,' my pension, my stocks, it's all been spent fighting for my children."
That was too much of a financial strain for the actress because at the end of May it was revealed that she had filed for bankruptcy.
Her legal papers,
which were obtained by TMZ
, showed that Kelly only has assets totaling $23,937, a figure that is dwarfed by her debts which total $2,021,832.
Her current monthly income is $1,279.33, a figure that is way down from the $40,000 she was making monthly during her final season on Gossip Girl.
According to TMZ she spent nearly $1.5 mil on legal fees.  On top of that she is also in arrears on her taxes, which total more than $350,000 for 2012.
As part of her custody arrangement Kelly is permitted to have the children 50% of the time.  Hopefully this means that they will spend the Summer with her in the United States.
---
{PACIFIC COAST NEWS}
---
[ad]