Second time parents-to-be Kendra Wilkinson and Hank Baskett were photographed at LAX on Friday headed to NYC for an event.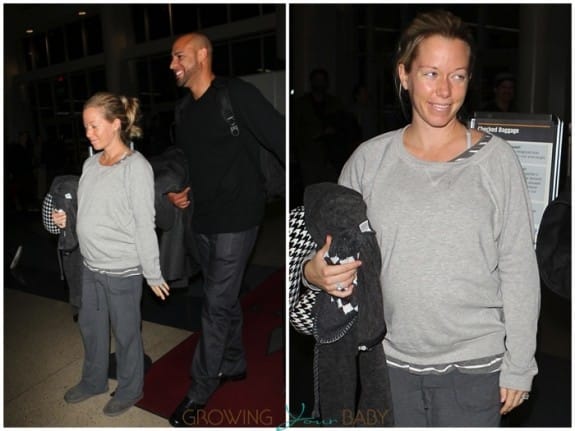 Now five months along, Kendra's growing belly was visible under her grey baggy sweater.
On Saturday afternoon the pair attended the Celebrity GAEMS PRO XP Super Bowl Event, that Hank was hosting at the Crowne Plaza Times Square in New York City. At the event Kendra showed off her dance skills for the crowd!
Pregnant with a little girl, Kendra recently told US Magazine that she has been working harder to stay in shape this time around.
"I got it by the balls! I have full control now. First time around I'm like, 'I'm a skinny person, I'm going to get back right away.' Oh no. I learned a lot from my first one," she explained. "I'm working out everyday; doing anything I can to control this this time around."
She also revealed this will be her last baby.
'I'm done,' she said. 'We don't want to take care of kids the rest of our lives  – we want to take care of ourselves, too. When the kids grown up, we're getting an RV. We're hippies like that.'
Kendra is due to welcome her second child in May.  The baby girl will join the couple's son Hank Jr.
{WENN, PACIFIC COAST NEWS}
---