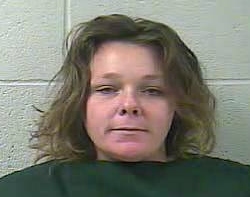 A Kentucky mom has been charged with assault after she allegedly squirted breast milk into the face of a deputy a local TV station reported today.
Last Thursday Toni Tramel was arrested after consuming too much alcohol and taken to a local lockup by officers. She was then ordered to change into jail clothing, but was much too intoxicated to do so, so a female officer named Lula Brown, agreed to help her.
That is when the brazen mom decided to squirt the officer in the face with milk from her breast in the shower area of the lockup.
Officer Lula Brown said Toni Tramel "grabbed her breast and squirted breast milk hitting me in the face and neck region."
A press release from the Daviess County, Kentucky, Detention Center, said that after the deputy 'decontaminated' herself from the "bio-hazard", the brazen mom was charged with third degree assault.
While the public drunkenness was merely a misdemeanor offense, the assault is a felony charge and a US$10,000 bond was set.
This case has sparked debate about whether using breast milk as a weapon should constitute a felony assault case, with many likening it to an accused person spitting on an officer. Also causing some furor has been the use of the term "bio-hazard" to describe breast milk.
---