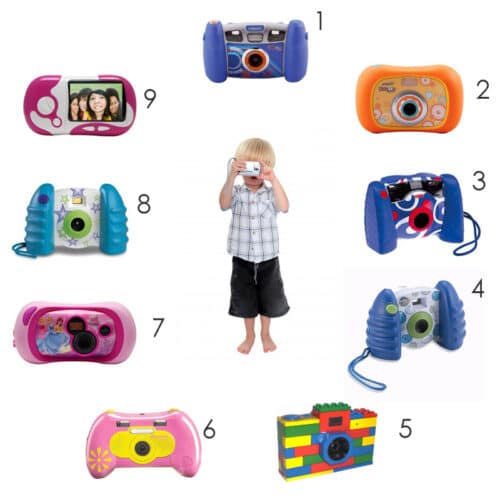 With the explosion of digital cameras for adults, I guess it was just a matter of time before the market filled up for kids.
While there are many factors that make a camera ideal for kids, parents must remember that the quality may not be close to that of their own camera.

With that being said, anything that is under a megapixel won't produce pictures that are printable, which could frustrate your little photographer.
Ideally you should look for something that is over 2.0 megapixels in order for your child to have a chance to take a picture that could be edited or printed.
*** Our Picks ***
If I were to recommend a camera, It would probably be the Digital Blue LEGO camera. We received this a couple months ago to test and my son(4) loves it. While it is not covered in rubber, it has been dropped on many occasions and still works fine. Would it survive a fall down the stairs? No, but it has done just fine when it has mistakenly fallen off the couch or table.
I like that it has internal memory and a rechargeable battery. When in camera mode, the viewfinder acts like a video camera showing kids what they are about to shoot. It has a flash that can be turned off and a garbage button that easily erases unwanted photos. The design is cute, the pics aren't too bad and it's reasonably priced.($60) Not for little little ones. Maybe 4 and up.
My second pic would be the Vtech Kidizoom Plus. This true kid designed camera has a bunch of features that are great for a new photographer. It has the rubber handles that parents are looking for and the picture quality – 2.0 megapixels
*** Our Pick For 6 and older ***
Digital Blue's u-turn. 5.0 megapixels, flash and zoom, rechargeable battery and a large screen make this a great camera for little ones who are more responsible than their younger siblings. Not too mention that 5.0 megapixels for $60 is unheard of.
To help you wade through the pile of cameras on the market and figure out which camera is right for your child we have put together a chart listing features, quality and price.
Here are the stats:(links below):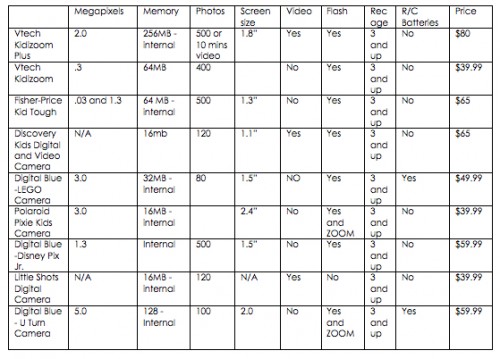 *Please note: this is not a review, just a comparison by the stats.*
---
[ad]