Looking for the perfect toy that's easy to use for your toddler??  The Wheeee-mote Control by B. toys is the perfect toy for you!
Do you know how some remote control cars take an adult to figure them out? Well, not this one… this one is perfect for a toddler!   With a push of the single button, toddlers can control the car.  I love this feature – one big button means that my son doesn't need to figure out which button to push to turn or go back.  So simple!
If your child gets frustrated easily as my son does, you'll be happy to hear that the Wheeee-mote Control is frustration-free – it turns on its own when it hits a wall or any other obstacle and its powerful radio signal works across rooms.
The car beeps, flashes, and spins.  We even tried it in the dark in our basement because the colors light up the room turning it into a mini toddler disco!  FUN!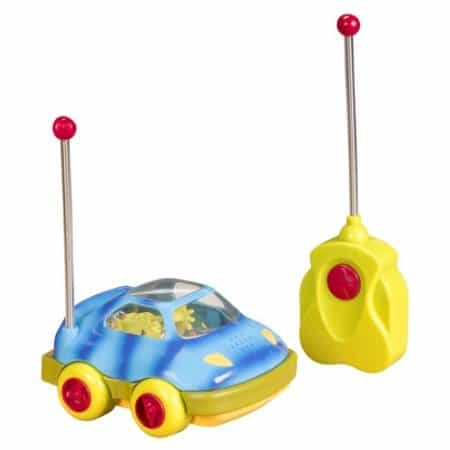 I'm not sure who had more fun with the Wheeee-mote Control – my son or my husband!  The car is definitely sturdy so it's not going to break the first time your little one throws it in anger when he doesn't get his way or when he walks around the house holding it by the antenna.
Another thing I love about the Wheeee-mote Control – There is an auto turn off!  That means that when your child has had enough play with it and runs off to something else it will turn itself off conserving battery power.
Bonus feature:  Thinking of giving it a gift… you don't need to worry about gift wrap!  The box reverses to become beautiful wrapping paper, complete with gift tag!
If you like to get smart toys for your kids, B. is a great brand with super cool toys, they are smart, durable, colorful and best of all, every B. toy you buy gives 10 cents to Free The Children.
*Thank you to B. toys for sending us the Wheeee-mote Control for review*
Related Articles: