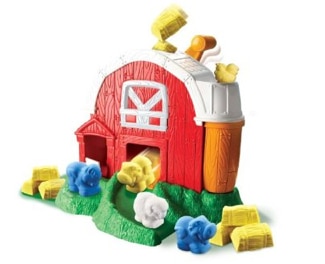 As the Summer wears on, I am constantly looking for new ideas to keep my guys entertained.  Enter Spin Master's Moon Dough! It arrived last week for my kids to try out and was a hit from the minute I opened the box.
This 'dough' is unbelievably light, almost like cotton with a constarchy consistency that sits between a marshmallow and old fashioned play dough. Parents will love that it never dries out, is hypo-allergenic and is wheat-free.
The newest set in the Moon Dough collection is a bright red Barn($20). At first I wasn't sure if there would be enough to keep both kids occupied, but as soon as I opened the bags of dough and let them loose there was more than enough for both to do.
This set took me out of my comfort zone as I traditionally buy toys that don't make a lot of mess and that can be cleaned up quickly. This is not the case with Moon Dough – especially when you have two rough and tumble boys. There will be a mess, but your kids WILL have fun.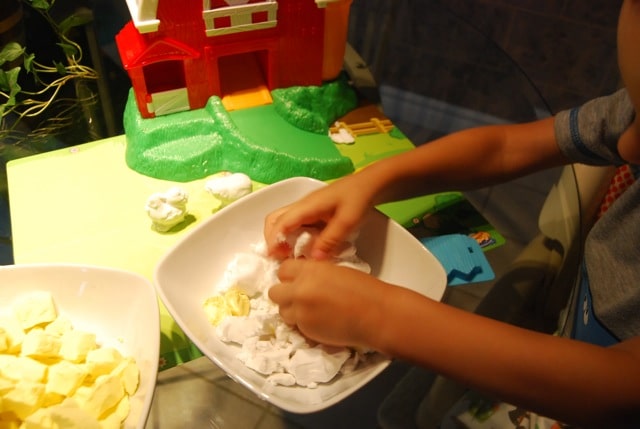 My boys loved this farm. It has a cool four part mould in the barn that spits out perfectly shaped animals for play around the farm. This was my oldest son's favourite part and it never got old. Her would fill it up, release the lever and wait for his animal to come out, each time saying, "Look mom it's a Sheep!" or a horse or a chicken or a pig.  Some would come out without feet or heads because he didn't put in enough dough be he didn't care. It was magic and as he made them he lined them all up so that they could all graze in the field together.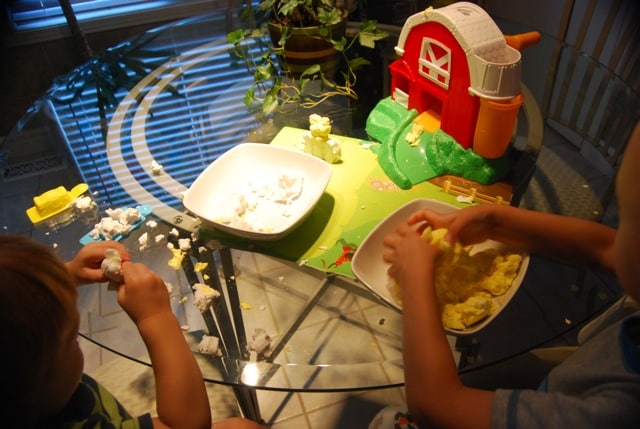 My youngest spent most of his time filling the other moulds to make hay bales and fences to keep the animals in and help organize the livestock coming out of the barn. Oddly enough they didn't fight once because they were both so focused on the task at hand.
When it was time for lunch they didn't want to put the set away and made me keep their 'animals' on the counter for play later.
Because the dough does tend to break apart, this set would be perfect for outside on the deck or when grandma is here. And even though I had to get the vacuum out to clean all of the little bits up I will probably get the Pizza shop($15) or Puppy Dog house($15) for them at Christmas because they loved the barn so much.
Apparently my kids aren't alone.  This barn was already named as a top toy for this upcoming Holiday season by The Entertainer and I won't be surprised it makes a few other lists in the coming months.
*Product samples were provided to me as part of a Team Mom campaign(Thank you)*
---