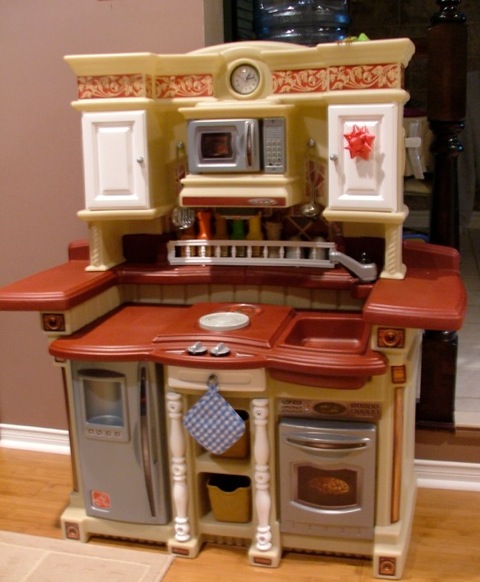 Step2 is famous for their elaborate play kitchens that include something for every budget.
Because my oldest son has developmental difficulties, we are always looking for ways to improve his creativity. For this, we thought that a play kitchen would be perfect. So, for Christmas this year we bought Step2's Party Time kitchen.
After much research we felt that this one was perfect because it had enough room for both boys to play and some storage for extra accessories. Our space is limited so this kitchen was ideal as it is only 39.5″ long and it was on sale at Toys R US!
Out of the box I was surprised that it only took my husband just over an hour to put it together(including applying all of the stickers). We opted to put the kitchen together 2 days before Christmas because we wanted the boys to be able to play as soon as they opened it as opposed to having them wait through their excitement.
Once together we were both pretty impressed. This kitchen is cute. It's small, but cute.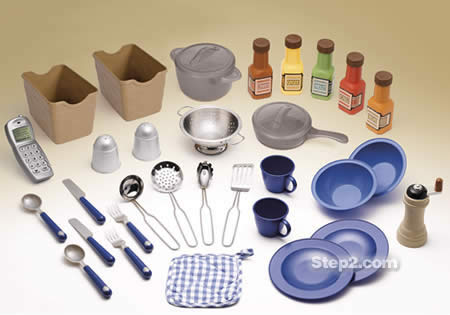 Just like a regular kitchen, it has a microwave, oven, fridge, sink and stove top. To give it a nice homely look, a nice border and crown moulding adorn the top.
For added reality, Step2 included a few features that were a hit right away with both kids. The frying pan and pot activate frying and boiling sounds on front burner and the microwave makes a cooking sound when you hit the cook button.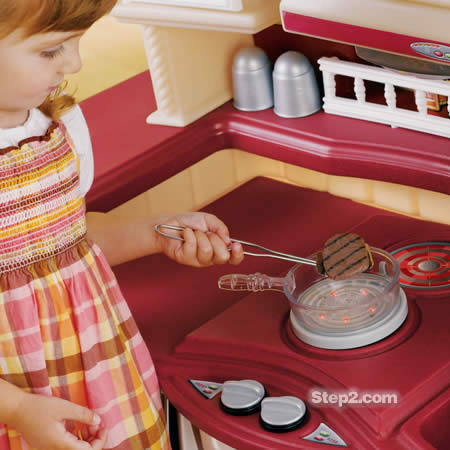 To get you started 33-piece accessory set has been included that has cooking utensils, 2 place settings, baskets, and a bevy of condiments. We also bought some wooden food so that the kids could make each other breakfast and dinner.
I would definitely recommend the Party Time Kitchen($175) to a family with 1 or 2 kids. It blends in with the rest of the house, doesn't take up a lot of room and it makes my boys happy.
Worth noting: The Step2 Custom Kitchen and Annabel Karmel New Tradition Kitchen are both very similar to ours, but much less money.

*this kitchen was not provided for review, it was purchased by us*
---
[ad]