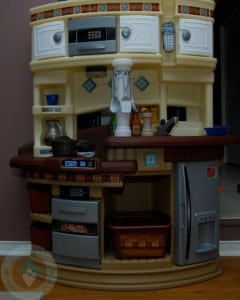 As we head into the Holidays, one of the most popular purchases for kids this gifting season is a play kitchen.  Perfect for both little boys and girls, these realistic miniatures are a fun way to encourage imaginative and creative play.
Step2's Mast Chef Kitchen is a great option for families who would like a kitchen for their kids but are not looking for something that will take up their whole living room.
Shaped like a half-moon, this kitchen comes equipped with a play fridge, stove, microwave and lots of storage space.  To get your little cooks started there is also an accessory kit that includes a pot, pan, coffee pot, plates, mugs and lots of utensils.
New for 2010, Step2 has updated many of their popular kitchens with a softer color palate, new trendy borders and smooth counter tops.  The Master Chef Kitchen has some really cute touches like a cutting board decal with 'tomatoes', a utensil rack and a stainless steel sink insert.
Out of the box, I was pleased that it only took my husband and I an hour to put it together.  Step2 includes a great instruction pamphlet that takes you through every step including where to put the stickers and while it looks complicated, the kitchen arrives in 3 pieces that go together quickly.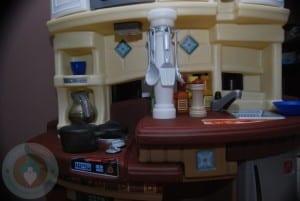 My boys(22 months and 5) love this kitchen and play well together when using it.  The multi-level counter top creates 2 separate play spaces that gives each one an area to work in.  When my youngest is 'cleaning' dishes and playing in the fridge, his brother can be making coffee or cooking on the range top.
For added reality, Step2 included a few features that were a hit right away with both kids. The frying pan and pot activate frying and boiling sounds on front burner and the microwave and oven both makes a cooking sound when you hit the cook button.
Whether your kids are toddlers or pre-schoolers, this kitchen will undoubtedly be a hit.  The Step2 kitchen is a toy that they will play with for years because it's function always changes.  They can bake you a pie, make you some pasta or just hide their favorite toys in the cupboards.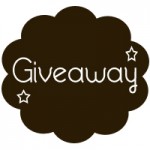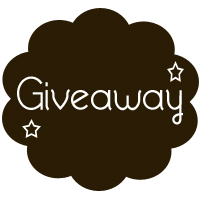 STEP2 is offering one(1) Growing Your Baby reader the opportunity to win a Master Chef Kitchen (ARV. $149).
Congratulations to our winner: Courtney Hutson