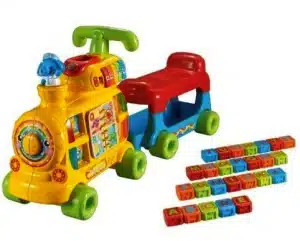 While shopping for my youngest son for Christmas this year I was looking for toys that would grow with him. Space is a premium in my house and we need toys that are going to last, not just be fun for today.
The Vtech Sit-to-Stand Alphabet Train caught my attention because it can be used from 6 to 36months.
Out of the box little assembly is required. All I needed to do was pop the wheels and handle on and unpack the letters. We did this on Christmas Eve because we didn't want to have to worry about it during the morning excitement.
Because my little one can't yet walk, he tends to like stuff that he can sit at and play with like Play Tables and activity boards. This train has a side panel that features a book with six turning pages, five piano keys that teach numbers and colors, and 4 spots to put alphabet blocks. A sensor detects which letter is on the spot. Flip it over and there is a picture of an object that is spelled with that letter.
For fun and easy storage, the train has a 'chute' at the top that kids can put the blocks into and watch them slide into the attached carriage.
Early walkers can use the attached handle on the train to practice or just sit on the carriage and use the handle for steering.
In the few days we have had it, this toy has been hit with both kids. My older son actually sits with his brother and shows him all of the letters and pictures. Even though it looks a bit small once it's put together, both boys seem to fit it fine when riding and playing.
I would recommend the Vtech Sit-to-Stand Alphabet Train to another parent who is looking for a great 1st Birthday gift or just something that will grow with their child.
*This toy was NOT sent for review. We bought it 🙂 *
---