Allure of the Seas is the world's largest cruise ship and also the most entertaining ship we have ever sailed on.  From the moment we boarded I was blown away by every detail of this incredible vessel and often had to remind myself I was on a 'boat'.  My kids were equally impressed and enjoyed every inch of this ship.  Royal Caribbean has done a great job of making sure there is always something going on for passengers of all ages.  Whether our boys were whipping through the splash pad or mini-putting at the back of the ship,  every minute of our time on board was filled with excitement.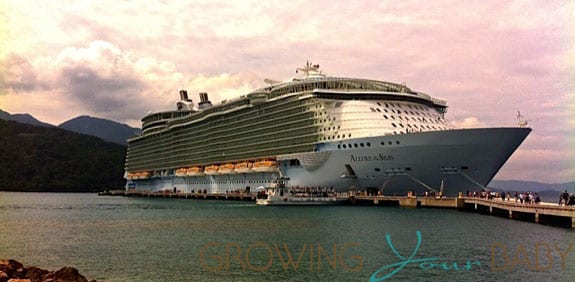 And while there are too many things to count, we have compiled our 10 favorite kid friendly features on Allure of the Seas!
1.  Adventure Ocean Kids Club – For the last 8 years Royal Caribbean has been in partnership with Fisher-Price to bring quality toys and programs to vacationing families.  The programs that have been set up on Allure of the Seas take that partnership to the next level by allocating play space for kids of all ages.  When my oldest son was 9 months old we sailed with him on Serenade for his first cruise.  At that time Fisher-Price's play programs were in place but were held in various lounges around the ship between 10 – 10:45 because there wasn't a dedicated room on board for children under 3.  When Royal Caribbean built Allure and its sister ship Oasis they created spaces for the tiniest cruisers – lots of space!  This section of the ship features a nursery for 'Royal babies' 6 months-18 months(fee for care) and an open play space for 'Royal Tots' who are 18 months – 3 years.
Pre-Schoolers between the ages of 3-5 have their own program called the Aquanauts, Kids aged 6-8 play in the Explorers lounge and cruisers who are 9-11 hang out in the Voyagers room just down the hall.
Every night before we went to bed we would receive the Cruise Compass that would outline the theme in the kids club for the following day.  When we signed them up I thought they would just have 3 hours of free play.  Instead there is a program that is set up for every session, complete with a specific theme for that day.  For example, on Day 3 for the evening session of the Aquanauts program there was  'Little People' theme.  According to my daily planner the kids would be playing Pass the parcel, Musical Dots, Pin the nose on the clown and participate in a birthday sing-a-long.  They would be visiting the Science lab to make Gummy Candies before heading to the adventure theater for the Little People Birthday show.  Having the evening's program laid out ahead of time allowed us to decide if the kids would enjoy that evenings events. The schedule also varied for each age range.  For example on Day 3 Adventure Ocean had a different schedule planned for kids 6-8.  They would start in the Science lab and then head to the Sports Court between 8-9:30pm to play Dodgeball, Kickball and Pacman Tag.  Their night would end, however, with a Dreamworks family visit.  Sounds fun doesn't it?  My kids thought so!
2.  My Time Family Dining – Because the dining room service can sometimes be a little long for little cruisers Royal has developed My Time Family Dining.  Like many kids, my boys are so impatient when we eat out so I loved that the waitstaff was at the table immediately to take their meal orders.  This also allowed them to eat in time to hang out at the kids club at 7pm for the evening session, if they were participating.  This was a big plus for us because it gave the kids some time to eat with us before they headed off to play and us some time to relax with our friends. Royal offers their little cruisers options they may be more comfortable with like Mac & Cheese, Pizza, Hamburgers and Chicken Fingers.  More sophisticated choices are also available, but my pair always opted for their favorites.
3. Puppet and character shows –  Throughout the week there were quite a few performances that families could go to outside of the Adventure Ocean program.  While many of them were the same shows kids would see while in the program, it gives parents the opportunity to enjoy some of these shows with their kids.  We attended the Little People Birthday party, which was a cute dance party with some of our favorite characters that ended with everyone taking home a gift box.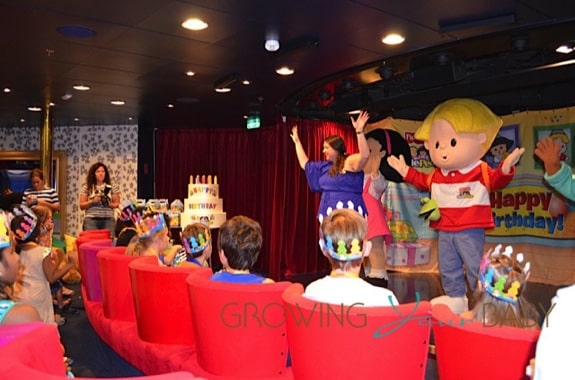 We also had the chance to take in the glow in the dark ImaginOcean puppet show that featured the underwater adventures of three fishy friends.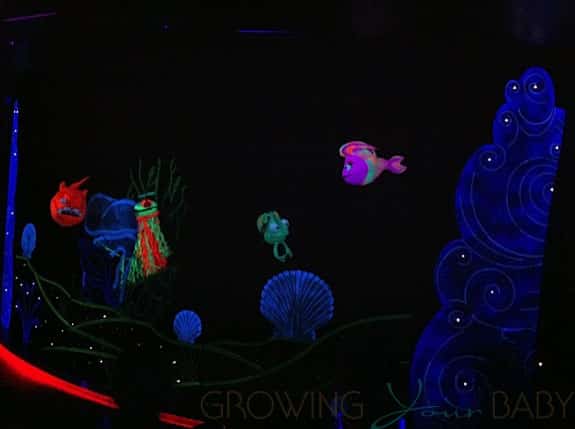 The Adventure theater is a smallish space that has 4 rows of seating for passengers of all sizes.  This makes it the perfect venue for stage shows and movies like the Bee Movie, Antz and Madagascar 1, 2 and 3!
4.  Power Wheels play session – Twice during our cruise Royal Caribbean transformed the Sports Court into a race track for kids 3-5 by bringing out 7 Fisher-Price Power Wheels vehicles and letting the little ones loose.  Set up in 15 minute increments, kids just jump into a car and go. They are restricted by the plexi-glass walls, but are free to tour around the sports court at their leisure. Yes, there was a few crash-ups but my boys loved this play session both times it was offered and left in tears both times when it was over.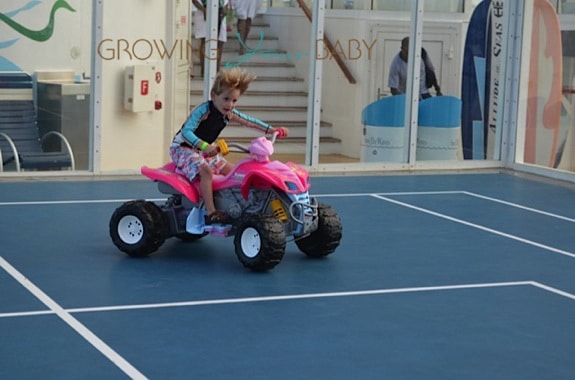 5.  The Carousel – This ship has a carousel!  I had read about it before we set sailed but wondered if it would be small or too packed for the kids to fully enjoy it.  This was definitely a highlight for both my boys and it was never too busy for them to ride on.  They always got on right away and were allowed to ride as many times as they wanted as long as there wasn't people waiting, which there never was.  The carousel wasn't just a hit with kids.  Every time we visited there were always a few adults going around, re-living a bit of their childhood.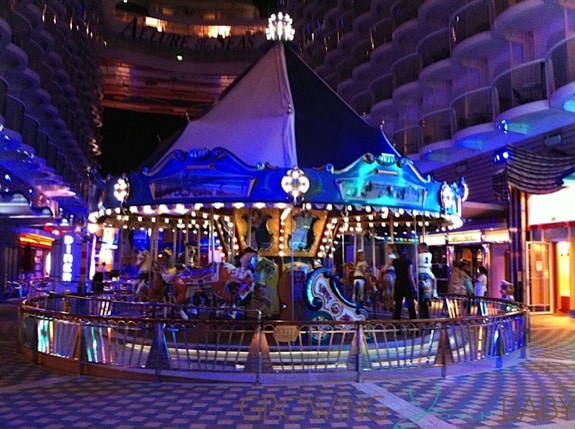 6.  H2O Zone – Regardless of the time of day the H2O zone the place to be on the Allure of the Seas. My kids loved the water play options for them and never bored of this splash wonderland.  Occupying half of the deck, kids have their choice of running through the splash pad, swimming in the pool, floating around the current pool or hanging out in the massive 12 ft hot tub.  There is also an ice cream machine right across from the hot tub that was very popular with every person on the pool deck.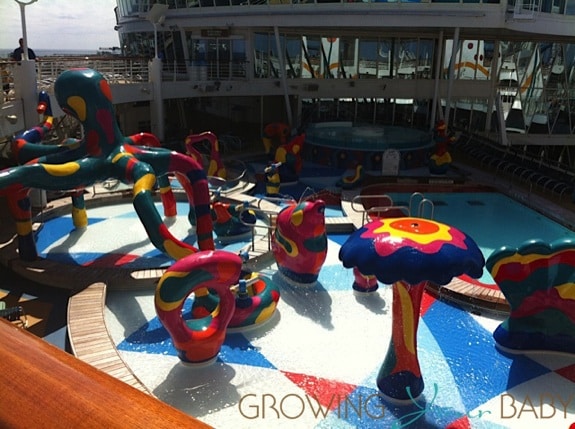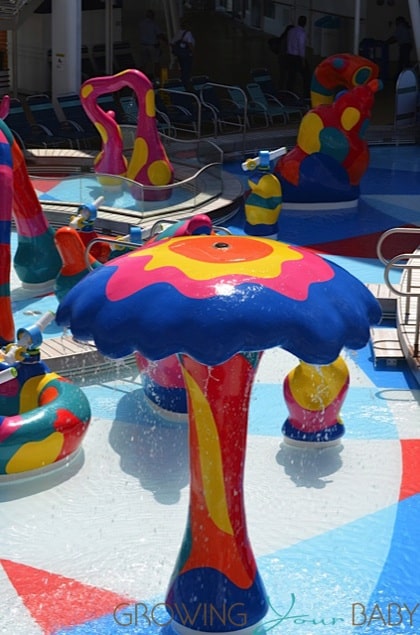 7.  Dreamworks Partnership – In 2010 Royal Caribbean announced their partnership with Dreamworks Entertainment.  The characters are integrated perfectly into the cruising experience and give a quiet part of the day some excitement.
Our first show was the sail away party the evening we boarded.  The whole cast of Dreamworks characters and dance crew participated in a 30 minute sing and dance number which took place in the Aqua Theater. Set to some of my favorite 90's music this show had everyone on their feet.
In the cabin, kids can watch their favorite Dreamworks movie on the television and while you are hanging out around the ship you may get the chance to have your photo taken with Puss in Boots, Shrek or those crazy penguins.
Our favorite Dreamworks experience, by far, was the Character breakfast.  Taking place three times during our cruise, families are given their own table in a special area of the main dining room.
While a kids friendly menu offers pancakes, waffles and chocolate pastries, the real excitement comes with the big furry characters that cycle through the room first doing a dance number and then stopping to take individual photos with each family.  Our breakfast was the Madagascar crew, more specifically Alex the Lion, King Julien and Mort the Lemur.  All of the kids went crazy every time a character would arrive.  You can take your own pictures or let the staff photographer take them for you.  My boys would have done this breakfast every day if we let them.  It does, however, need to be booked in advance but it is free!  So if you are sailing soon call Royal Caribbean and have them reserve it for you under specialty dining.
8.  Cupcake Decorating – Even though I have two boys they love to bake and cook with me at home.  In the Royal Promenade vacationers can stop into the bakery and grab a treat or sign up their kids to participate in the cupcake decorating class ($22 for adults, $15 for kids).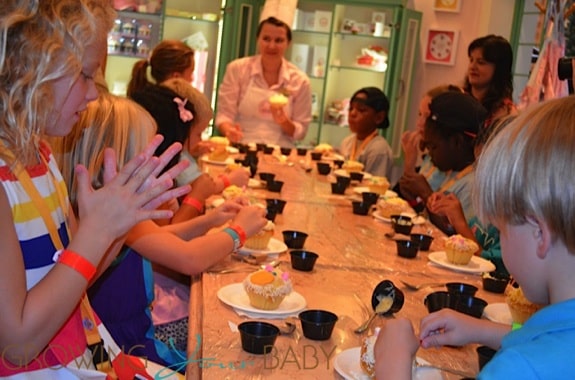 Perfect for kids of all ages, the team at the cupcake shop takes your little ones through the steps to make their own 'kitten cake' and when its over they can eat their creation or take it back to your cabin for later.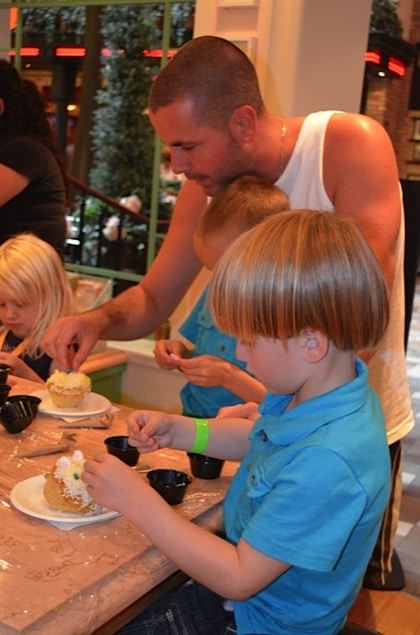 9.  The Royal Promenade – First featured on Royal's Voyager and Freedom class ships, the Promenade is the life of the party on the ship.  Along with eights shops and nine restaurants, Royal holds a lot of their big events in this massive space.  Three stories high, there is always music to dance to, food to eat and lots to see.  For us, this was a favorite spot for late night pizza, hot chocolate and cookies.  Because we were on vacation we also let the boys stay up to enjoy some of the special events going on like the Disco 70's show and the Dreamworks parade!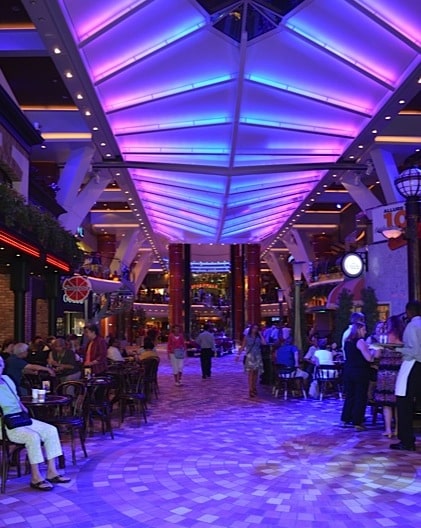 10.  The Boardwalk – The Boardwalk is full of fun stuff for kids to do starting with the aforementioned Carousel.  Designed to look feel like you are in Coney Island, this open space which is located at the back of the boat, features six shops and five restaurants/bars including an ice cream parlor, a hot dog stand, stuff your own animal shop Pets at Sea, Mexican restaurant and the famous burger joint Johnny rockets.
The Boardwalk was one of our favorite places to hang out because there was always a lot for the kids to do like characters to pose with, face painting and a cool playhouse that was modeled to look like a Mexican town.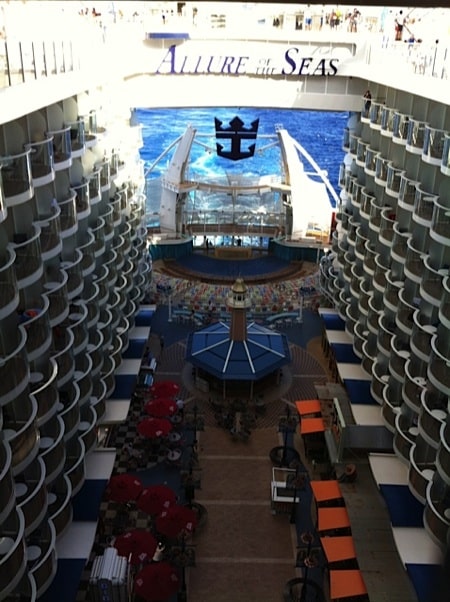 Even though we sailed on Allure for 7 days we didn't even come close to experiencing everything she had to offer. We look forward to returning soon to continue our adventure!
---
"Disclosure: I am a Fisher-Price Play Ambassador and I receive special perks as part of my affiliation with this group. The opinions on this blog are my own."
---
[ad]