Fisher-Price has been long known for their Jumperoo.  The perfect place for little ones who are able to sit up, but not yet ready to walk, this entertainment center has been hailed by parents as a 'lifesaver'.  For 2014 Fisher-Price has added a new feature to this stationary jumper that allows it to grow more with your child.
We recently received a First Steps Step'N Play Jumperoo to test with some of the babies in our community.  Regardless of their age, or developmental level every child loved this play center.  I really is quite mesmerizing to see how happy it makes a baby to just stand and jump.
The First Steps Step'N Play Jumperoo can be used three ways – as an entertainment center, a jumper, and also as a walker.  When your child is old enough to have good head control this unit spins 360 degrees for all around play.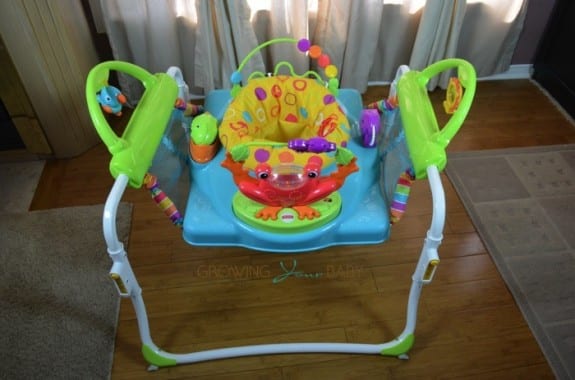 As they get more steady on their feet they can play and jump, and lastly when they are ready to take a few steps the unit can be extended to give them space to walk back and forth while playing and jumping!
Designed on a sturdy frame, the First Steps Step'N Play Jumperoo creates a safe place for your child to bounce.  A fabric covering over the springs also ensures that little fingers don't get caught if they grab the wrong spot while bouncing.
In the middle of the unit there is a cute frog that make noises when turned on.  In the first mode it just play animal noises, in the second mode it plays music and animal noises that are activated each time your child jumps.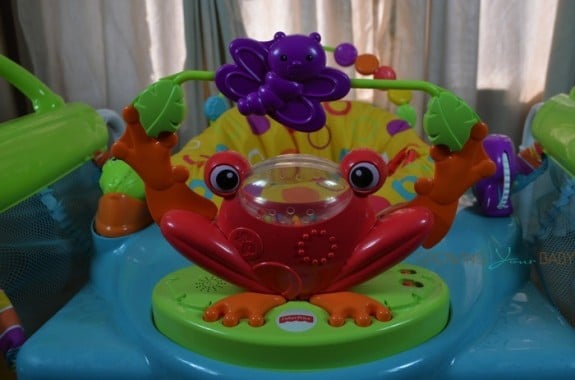 Around the play center there are additional animals that are teethers, rattles and mirrors.  At the back there are two activity areas; one where the keys can be moved through a maze and a second that is much like a bead counter.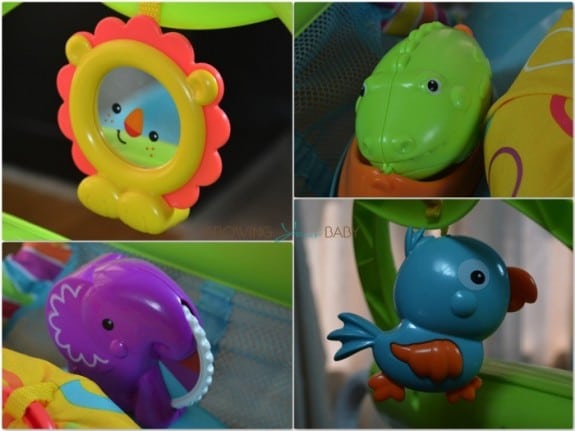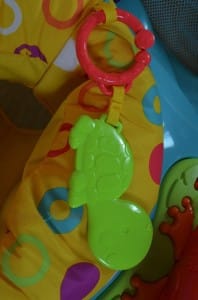 Parents will love that in the event your child throws up or if the seats gets dirty(as they do!) it can be easily removed and washed in the machine.
There is also a tether on the seat that has a turtle teether for little ones that like to chew.  A favorite toy or teether can also be subbed in if you want to change it up!
Mesh on both sides of the play area creates a spot for parents to place additional toys.  This also makes this area a 'no drop zone' so kids who place their toys here can easily retrieve them.
As your child grows the First Steps Step'N Play Jumperoo can be adjusted up three times.  It also doubles in length to give your child some room to roam.
As parents we often find our homes filled with big pieces of gear that serve a purpose for a short time.  I like that the First Steps Step'N Play Jumperoo was designed to be used for a longer period of time, and that it's more than a 'one trick pony'!
We have also created a video that shows off the features of this seat.  Please check it out!
* Thank you to Fisher-Price for sending the First Steps Step'N Play Jumperoo for review! After our test it was donated to St. Anne's Church in Kitchener to be used with the babies in their infant play program*
---
[ad]