Thomas the Train is undoubtedly one of the biggest characters for pre-schoolers, and this year Fisher-Price has created a version of him that is incredibly fun!
This year the popular train will be available with a remote control, that allows him to do a bunch of really cool tricks!
Turbo Flip Thomas($45) can be controlled by kids two ways; with the included remote control and just simply by pressing the #1 button on the side of the train.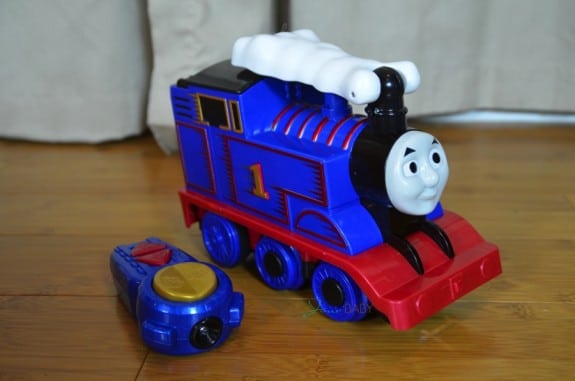 When kids press that button Thomas will do a series of pre-programmed routine of tricks.  They can also use the remote control to get Thomas to do exactly what they want.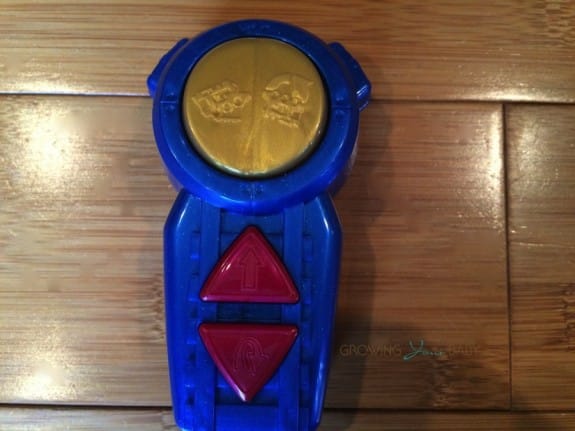 Perfect for little hands and young kids, the chunky remote gives the kids 4 stunt options.
In the wheels up mode(left side of gold button) Thomas shines his light and pulls up the front of his train.  If kids press the forward or spin around buttons while Thomas is in mode he will do them with his wheels up.
In Flip mode(right side of gold button) Thomas does one back flip.
Forward, which makes him move towards you
Spin around, which gets him to spin around while saying "Steam Spins".
We absolutely love Turbo Flip Thomas because he is perfect for kids from 3-8 or older if they're fans. He's very responsive and goes into sleep mode fairly quickly – a feature that is a god send as it prevents him from going on and on long after your child has walked away.
To see Turbo Flip Thomas in action, please check out the video below!
---