Even though she has said that she hasn't had many cravings during this pregnancy, it looks like Kim Kardashian's baby wanted some sweets yesterday. The reality star was photographed at SweetHarts in Sherman Oaks, California enjoying some frozen yogurt with her step brother Brandon Jenner and his wife Leah.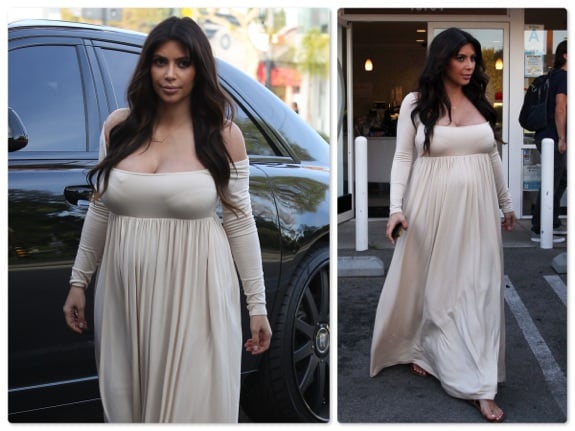 Now in her last trimester, Kim wore a off the shoulder white dress that flowed over her growing belly. She appeared to be barefoot but was wearing flats that had a clear strap.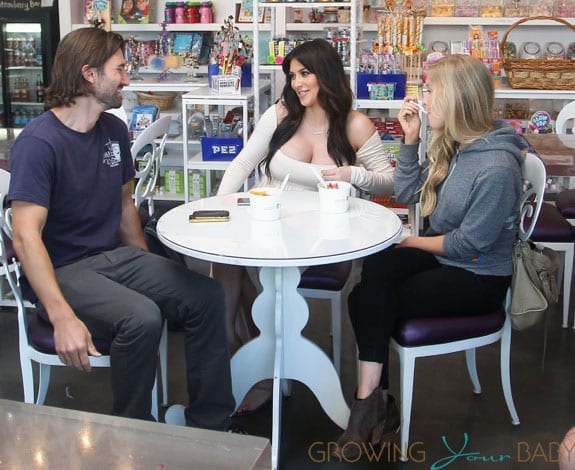 The family visit was being taped for a future episode of Keeping Up With The Kardashians. For the last 6 years Kim has documented most of her life on tv through her E! shows KUWTH or Kourtney and Kim Take Miami(or New York). The baby, however, won't be appearing on any of the Kardashian family reality shows.
"When the baby's old enough, and … he or she decides that's what they want to do, then that'll be a decision," Kim said.
It has also been suggested that Kim and Kanye may not even release any pictures of the new baby until he or she is six-months-old.
"She doesn't even want the baby to be seen for the first six months," a source tells Us Weekly, adding that Kardashian is "ready to dial back from being so public." The insider adds that the first-time parents-to-be "have decided as a family that their baby is not going to be on the shows."
---
{FAME/FLYNET}
---