In an exclusive interview and photo shoot with OK!, Kimora, who also has two daughters Ming, 9 and Aoki, 7 ,(with ex-husband Russell Simmons) shows off her family's newest addition.
"I just never thought it could be this good," Kimora Lee Simmons coos to OK!. The 34-year-old Baby Phat CEO and Style Network star has every reason to be in love with life: she and her husband, actor Djimon Hounsou, welcomed their first child, a boy named Kenzo Lee, in May.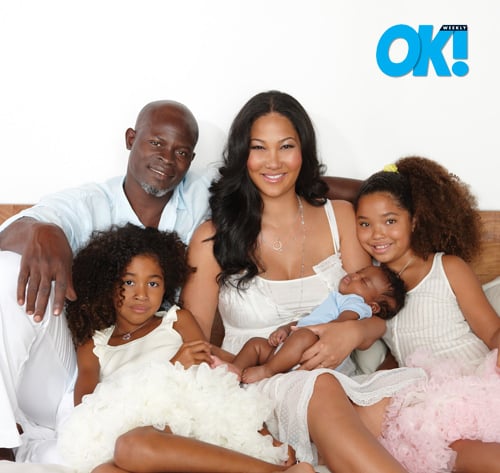 Here are some highlights:
How is Djimon is doing as a new father?
"He's so hands-on. He holds the baby, and he flicks the doodies. You wouldn't think a guy would be so hands-on, so supportive, so strong yet gentle."

Adding, "It's a big thing to not have to feel like you have to do everything yourself."
How Ming and Aoki are adapting to the new family member:
"They're so excited! They think they are little mommies."

"I believe the blended family is the look of the new American family," Kimora explains of her brood. "The majority of Americans have a step-this or half-that. I wanted to portray that and show that it is possible to have one with so much love and happiness."
---
---