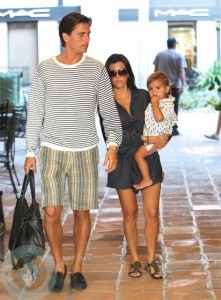 Exciting news for Kourtney Kardashian and partner Scott Disick!  The pair announced today that they are expecting their second child this Spring.
"Scott and I are so excited to announce that we are expecting," Kardashian said this morning. "We are thrilled to be expanding the love in our family."
The reality star told Us Weekly she took a pregnancy test about five weeks ago — and woke Scott up right away to tell him the news.
"Now I'm nine weeks along," Kardashian says. "You're supposed to wait 12 weeks to tell people, but I feel confident."
Scott added,
"It wasn't like we weren't trying.  We kind of just said, 'If it's meant to be, it'll be.'"
The couple, who has been together for 5 years, are also parents to 2-year-old Mason.
Related Articles:
{SPLASH}
---
[ad]