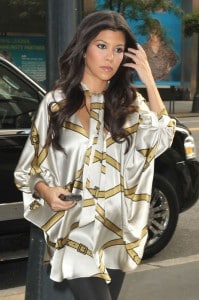 Last week reality TV star Kourtney Kardashian announced she was expecting her first baby with boyfriend Scott Disick.
Since that time, the mom-to-be has conducted a series of interviews revealing more and more information about the circumstances surrounding her pregnancy.
Yesterday she told  People.com, she definitely thought 'long and hard, about if I wanted to keep the baby or not, and wasn't thinking about adoption,'
"I do think every woman should have the right to do what they want, but I don't think it's talked through enough. I can't even tell you how many people just say, 'Oh, get an abortion.' Like it's not a big deal."

Confused and concerned, Kardashian says, "I called my best friend crying, and I was like, 'I don't know what to do.' She said, 'Call your doctor, and at least find out the risks and stuff.' " So Kardashian discussed abortion with her physician, and then headed to the Internet to do further research.

"I looked online, and I was sitting on the bed hysterically crying, reading these stories of people who felt so guilty from having an abortion," she recalls. "I was reading these things of how many people are traumatized by it afterwards."

After scouring the Internet, Kardashian says she started to realize that an abortion wasn't an option for her. "I was just sitting there crying, thinking, 'I can't do that,' " she says. "And I felt in my body, this is meant to be. God does things for a reason, and I just felt like it was the right thing that was happening in my life."

Kardashian says she did some intense soul-searching. "For me, all the reasons why I wouldn't keep the baby were so selfish: It wasn't like I was raped, it's not like I'm 16. I'm 30 years old, I make my own money, I support myself, I can afford to have a baby. And I am with someone who I love, and have been with for a long time."
I understand that she had this back in forth in her heart about whether or not to keep the baby, but I don't think it is something that needs to be discussed while promoting your new T.V. show.
As shown in her reality show, Keeping up with the Kardashians, Kourtney comes from a close knit, well off family. Impressionable women who are living in less than ideal conditions and with a lot less money could think, "If this girl didn't think she could raise a baby, than how can I?"
There are some things that should be kept within a family and not used as an opportunity to get some more press for your new project.
---