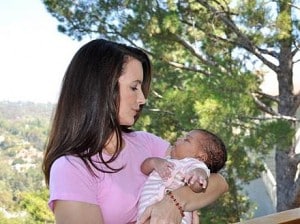 Congratulations are in order for Sex and The City star Kristin Davis! People announced this afternoon the actress became a mom to Gemma Rose Davis a couple months ago through domestic adoption.
"This is something I have wanted for a very long time," Kristin told the magazine "Having this wish come true is even more gratifying than I ever had imagined. I feel so blessed."
The event is truly life imitating art.  Kristin's character on Sex and The City Charlotte, also adopted her first child too.
The actress had previously said she wanted to have children naturally or through adoption.
"I would love to have children. I would love to adopt. And I would still like to find a man and have a baby with him. I haven't given up.

"My friends have children and I love them. I'm like Auntie Kristin — I love it. I have nieces and nephews as well."
Related Articles:
---
[ad]