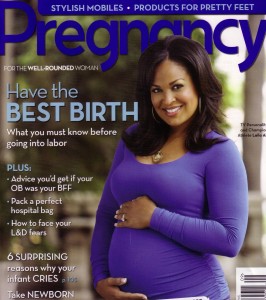 Mom-to-be Laila Ali talks to Pregnancy Magazine about her decision to deliver the baby at home, the birth plan and her pregnancy.
Here are some of the highlights:
When is the baby due?
I don't put a due date on the baby, whenever he's ready to come out.
How did you decide to have a home birth?
I saw Ricki Lake's documentary, The Business of Being Born. I think all women kind of like to be in control, but I want to really experience the birth. Society tells you , "You get pregnant, you go to the hospital", and that was just naturally what I was going to do, but once I saw that there was another option, it just fit me. I want to be fully present – I don't want any medications. I just want to be in control of the situation – as much as I can be anyways.
Any details you can share about your birth plan?
I'm going to have water there, but I know that I might not end up giving birth in the water. Or, I might just use my own tub.
Do you plan to breastfeed?
I'm definitely breastfeeding. God gave us the gift. Our bodies are made a certain way to nuture our children. To certain point, anyway. I'm not going to be one of those mothers breastfeeding my 3 year old.
For more of the interview and more pictures please pick up a copy of Pregnancy Magazine.
---
---
[ad]