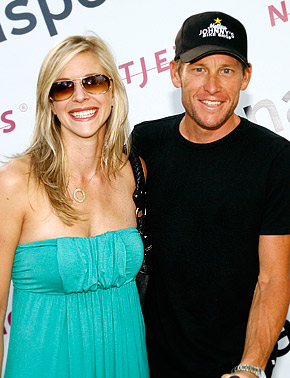 Wow! Lance Armstrong surprised everyone today by announcing, via twitter, that he and girlfriend Anna Hansen will be expecting their second child, his 5th, together this October.
Creating a twitter account in the unborn baby's nickname, "Cincoarmstrong." The excited dad-to-be wrote:
"I got 2 arms, 2 legs, a nickname, and [I'm] 2 inches long. See y'all in October…I'm now the size of a lemon, 3.5 inches long, and weigh 1.5 ounces. And oh yeah, I'm on Twitter."
Lance then followed up the announcement with his own tweet saying,
"What to say? Yet another blessing in our lives. I cannot wait!"
The athlete then confirmed the news to his hometown paper, the Austin-American Statesmen. The future child's future name could be Jack or Olivia, the paper reports.
In 1996 the 7 time Tour de France winner was diagnosed with testicular cancer. Harsh chemotherapy treatments were believed to have left him unable to have children. At that time, Lance and then-wife Kristin Richards had three children using sperm the cyclist had donated before the treatment.
When Anna became pregnant 2 years ago, the cyclist revealed that Max was conceived without the use of any artificial fertilization. It is not sure if that is also the case with baby #5.
The new baby will join Lance's 4 other kids, 8-year old twin girls Isabelle and Grace, son Luke and 10-month-old son Max.
Related Articles:
---
[ad]