When on the move with a young family there is always equipment to consider to get everyone from point A to Point B. In the early days it may be an infant carrier used in a travel system, and eventually as your family expands a double stroller. In our case our oldest likes to walk along as we push his little brother but still tends to get tired when on longer excursions. We found the perfect solution with the Lascal BuggyBoard Maxi, a platform with wheels that easily attaches to our stroller to provide a safe and comfortable ride for times when our son is tired or we are in a hurry.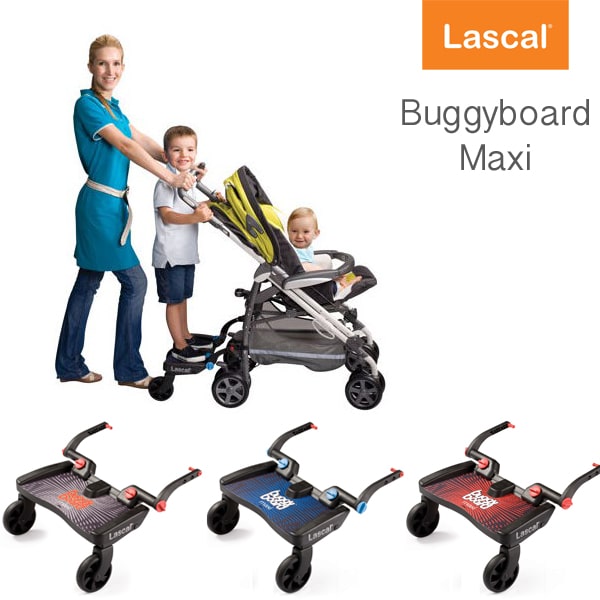 The BuggyBoard-Maxi has a Universal fit and a large range of compatible strollers. It is designed to fit square, oval or round tubing as well as lightweight, double and even 3-wheeled strollers. We are currently testing it out on the Cybex Ruby and find it to be a perfect fit. Check out the BuggyBoard page to see if it works with your stroller. It is for use from about age 2 – 5 years or up to a weight 20 kg (44 lb).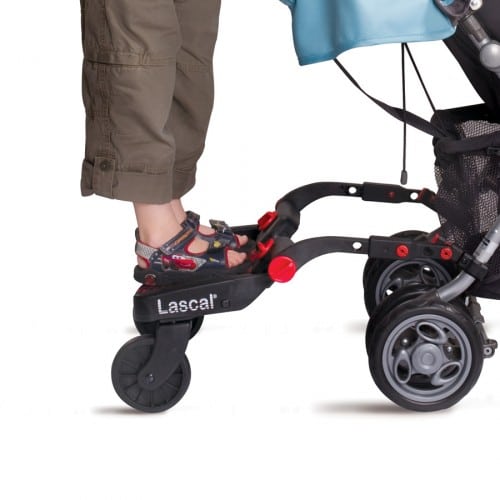 Installation of the BuggyBoard-Maxi was simple and straight forward with the Easy-Fit System and took me less than 10 minutes after opening the box. All I needed to do was pop on the two wheels, attach and tighten the connector straps to my stroller's frame, then customize the width and height using the corresponding dials to ensure a level riding surface. Some stroller models may require the included extender kit for the best fit.
We have used the BuggyBoard-Maxi on a variety of surfaces including uneven snow; thanks to the individual suspension system on each wheel we have found all rides to be smooth and comfortable. The platform has an anti-slip surface and raised border on three sides, ensuring a safe trip for the rider. My son was beaming with pride as he was pushed around big kid style and enjoyed the freedom to hop on and off as he wished.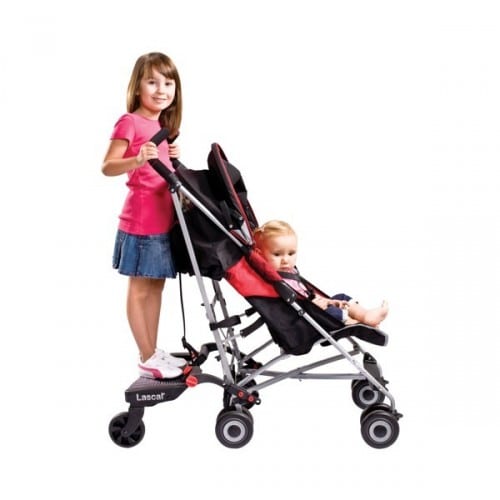 For the parent the BuggyBoard-Maxi has high ground clearance, meaning our feet went under the board as we walked without ever kicking or bumping it. We also like that it snaps in or out of the connectors on the frame in seconds, making it a very convenient add-on. It comes with a Lift-n-store system for times when the board is not in use but we still want it on hand – it is a clip on strap that lifts the board up and out of the way when the rider is not using it. If you are planning on using the BuggyBoard-Maxi with more than one stroller you have the option to purchase the Extra Connector Kit.
Coming in three stylish colours: black, blue and red, your Buggy-Board Rider will be stylin' in no time – add to the coolness with their very own rider wear at www.buggyboardrider.com
We are looking forward to having the BuggyBoard-Maxi along for family vacations, day trips to the zoo or other places that require long tiring walks, as well as to use as a safe way to get both of our boys through large crowds. Retailing for $99 this makes a great addition for those families with a preschooler that can walk but still likes to ride sometimes.
Dimensions
platform depth 17.5cm/6.9″
platform width inside 36cm/14.2″
ground clearance 15.5cm/6.1″
Thank you Lascal for providing us with a BuggyBoard-Maxi to test.
Related Articles:
---
[ad]