span style="font-weight: bold;">Laugh and Learn is a DVD series that offers up a comprehensive guide to labor and delivery that is as informative as it is entertaining for all expectant parents. All the necessary and helpful tips parents-to-be need to know about the miracle of giving birth is explained be using a bit of humor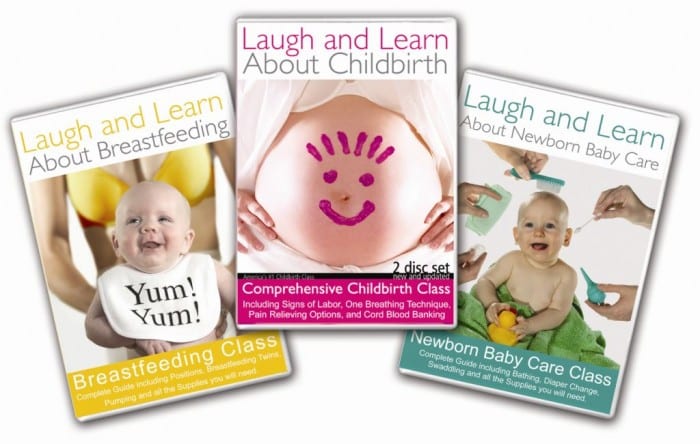 Your host, Sheri Bayles, is a respected childbirth authority, an award-winning Lamaze instructor, and a board-certified lactation consultant. She was on staff at the prestigious New York/Cornell Medical Center for twenty-four years.
Now known as the "Childbirth Coach to the Stars" and the "Twins Breastfeeding Guru" (New York Magazine), Sheri Bayles has created this trio of DVDs to help expectant parents everywhere prepare for childbirth and child care, in a simple, easy, private and less-expensive way to learn every bit of information they will need, from the "nurse with the personality" who will make childbirth both joyful and manageable.
The go-to gal for childbirth and breastfeeding instruction for over twenty years, Sheri Bayles is also the mother of twin boys, now thirteen years old, the perfect person to become the "Twins Expert"!
Her new DVD series, makes it so that anybody can learn what they need to know in the privacy of their own home, and without the expense of sometimes pricey and often inconvenient birthing classes!
The new version of Laugh and Learn About Childbirth features five diverse couples on the verge of parenthood. Sheri prepares them all for the big day in a series of six classes. Her gift is to replace fear with knowledge, and by demystifying the whole process with humor and wit.
Watch the first class here.

We had 1 Laugh and Learn About Pregnancy, BreastFeeding and Newborn Care DVD package to giveaway. This great knowledge bundle includes all three Laugh and Learn DVD's (Childbirth, BreastFeeding and Newborn Care) and Sheri's book, Laugh and Learn About Childbirth.
The whole set would make a really nice mom-to-be or congrats your pregnant gift.
Congratulations to our winner Summer – she is expecting in February!