When we talk about car safety, we are often referring to how to keep your family safe inside the car. Before I had my boys I could tell you the size, make and style of everything on my vehicle. Now, my brain is filled with their sizes, schedules, and favorite things. If I was being completely truthful I have never tested the oil level or the tire pressure on my truck. These tasks have now become my husband's responsibility. But in reality I really should know more about my vehicle and how to make sure my family is safe when I am driving in it.
A couple weeks ago I was invited to Texas to Cooper Tire's test facility in Pearsall to learn more about vehicle safety. Women account for 85% of all consumer purchases. And while we reportedly request 65 percent of the service work at car repair shops, many will admit that they know little about tire safety.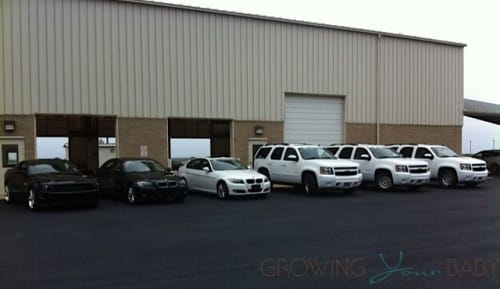 Knowing this, I was excited to meet with Cooper Tire's team to learn more about how I could keep my family safe while we are out on the road.
In 2010 Cooper Tire introduced three revolutionary products; the Discoverer A/T3, the Cooper Zeon RS3-A and RS3 S. Each engineered for different vehicles and terrains, all three have the same things in common – they were designed to keep your family safer, longer.
My day at Cooper Tire's track was divided into different events, each focused on teaching us something about safety.
For our first test we drove Chevy Tahoes that were fitted with Cooper's A/T3 tires and their major competitor's tires. Each mom that was on the trip was accompanied by a professional race car driver who first took us through the course and then put us behind the wheel.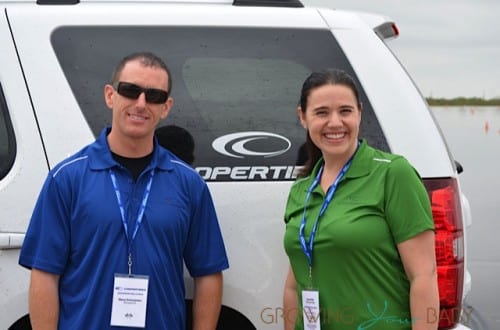 While I don't drive a Tahoe, I do drive an SUV so this test was one I felt very comfortable with. Steve, my race car guy, really pushed me to drive the vehicle aggressively so that I could see how the tires would respond if I had to corner quickly or brake quickly. As I was taking the truck around the wet track however, I could feel it sliding which made me a little apprehensive. He reminded me that this was the best time for me to go outside of my box as I was on a controlled course (with a pro). I pushed it a little further but could hear the wheels squealing when I was turning into the tight corners. I really didn't want to flip this thing… My time for the 3 laps was 63 seconds. Not the best – but not the worst.
My second time around I was driving a 'like make' Tahoe with Cooper's A/T3 tires. The difference really was night and day. The truck handled the corners better, didn't slide once and didn't squeal at all. I was more confident and I completed 3 laps on the track 6 seconds faster.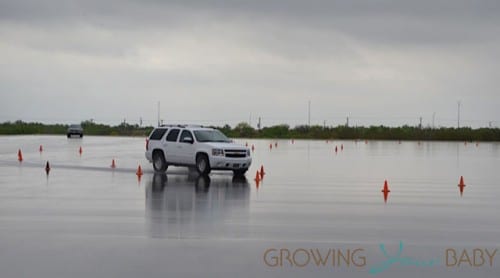 For our second test, Cooper was showing us the importance of new and used tire placement. Regardless of the brand of tire you choose you should always buy 2 or 4 tires for your vehicle. NEVER one. And if you can only afford two, the new ones MUST go on the BACK of the car.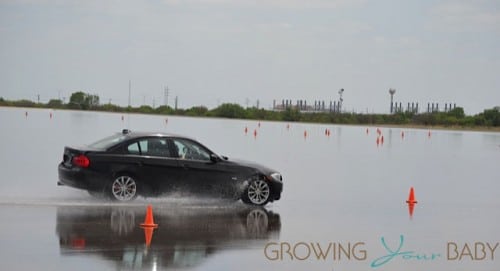 On the wet track we were given the opportunity to try this theory out on BMW's. Still accompanied by a pro, we first did the track in the car fitted with new tires on the back. The BMW 328 we were using to run the track in cornered beautifully. Again, Steve pushed me to work the corners aggressively. Regardless of how hard I took the turns on the track the car didn't slide once. This all changed, however when I got into the same car with worn tires on the back. In fact, I spun the car out at the top of the track but was happy that Steve was in the car to give me tips how to handle that situation if I was on the road at home.
Thankfully I wasn't the only one to spin off the track when driving in the car with the worn tires on the back. I video taped my partner in crime, Hollie from Baby Gizmo doing her laps and got her spin out on tape! Note: the white car at the beginning of the video has the new tires on the back.
Not only was this a good lesson, but we were able to really feel the difference between the two, which reinforced the principle for everyone.
In between my two test runs of the wet track I had the chance to do hot laps around the dry test track with Legend Johnny Unser!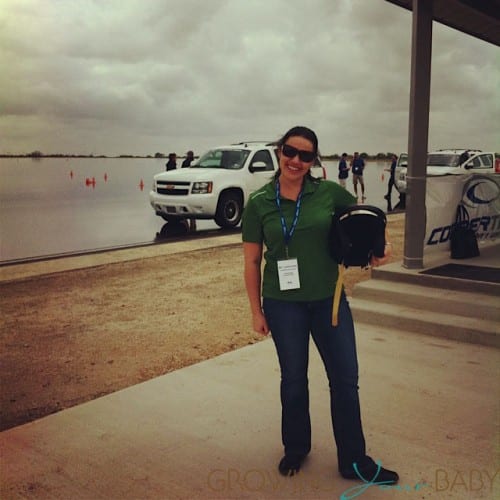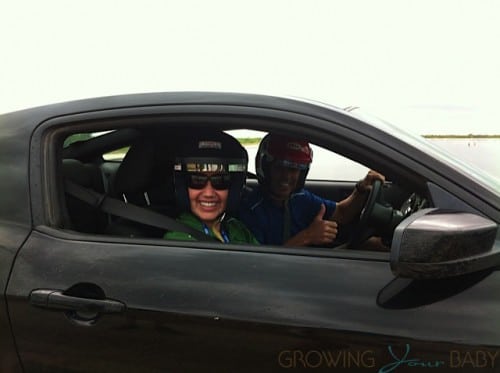 What was this designed to teach us? His Mustang uses regular Cooper Tires. The ZEON RS3 tires on his car are not specially designed for race cars, but your car. They will fit on most popular models like the Toyota Matrix, Acura TL, Chevrolet Malibu, Honda Accord, Mazda 3 and Nissan Altima just to name a few.
So, even though he burned through a few pairs while taking us ladies through the test track, they were driven under extreme conditions and still kept us safe on the track!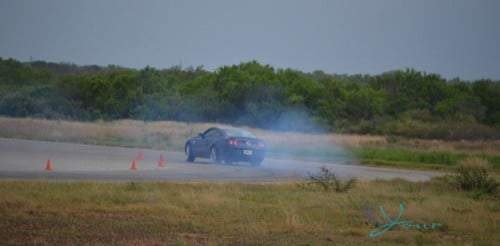 Check out this cool video from the event!
My takeaway would be that moms need know more about their vehicles, understand how to perform basic tests and have some knowledge about the product that is right for their lifestyle.
The Cooper Tire team offered a couple tips that everyone should use when they are buying tires.
1. Look at your vehicle's tire placard (on the door edge or door post) and/or the vehicle owner's manual for the proper size and type tire needed. Then do some research and have an idea of what products are recommended for your vehicle so when you arrive at the tire store they know you are educated. Also look at Consumer reports or online reviews.
2. Accurately describe to your tire service person what you will be using your vehicle for – highway driving, off roading, racing. Also know what you liked and didn't like about your current tire. Did your car ride and handle as expected in all seasons? Did you get the mileage you expected.
3. Be sure to consider more than just price when making your tire purchase decision. Use the research you've done and consider the advice of a trusted tire professional. Don't buy a tire just because it's the cheapest one.
4. Always purchase a set that will last the same or longer than the set you currently have. Every passenger tire has a tread wear grade on the upper sidewall. Buyers should always choose new tires that have the same or higher grade if they want a tire that will wear the same or longer.
5. Never purchase tires with a lower speed rating than that specified by your vehicle's manufacturer. In other words, if your vehicle's owner's manual states that your vehicle needs to have tires with a "V" speed rating, do not choose a tire with a lower rating. Even if you don't drive at higher speeds, your vehicle will not handle or turn as well without the proper tires on it.
6. Avoid purchasing second hand tires. Even if they don't look worn, they may have hidden damage that could lead to sudden tire failure. For more information on used tires, please visit RMA's website at http://www.rma.org/tire_safety/tire_maintenance_and_safety/used_tires/.
A very special thank you to the Cooper Tire(and the Z) team for working so hard to put this event together.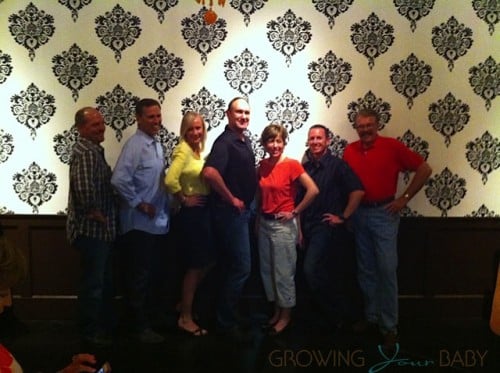 ---
[ad]