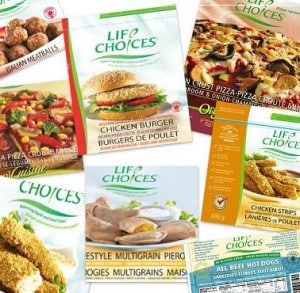 While I try very hard to make sure I cook fresh, homemade meals for my family sometimes it's difficult with children around to find the time to cook everything from scratch.  I'd be lying if I said that we didn't have any frozen food in our house.   As with most parents we do have our  "quick go-to" meals in the freezer for when we  are in a pinch.
That being said it's important to me that the products I buy are healthy. Occasional junk food does end up in my cupboard, but the majority of our snacks are from the natural foods sections of the stores.
I was recently introduced to a brand called Life Choices Natural Foods (branded Living Right Natural Foods for our readers in the USA).  Life Choices and Living Right use only premium, organic and natural ingredients that help contribute to a balanced diet while being great tasting.  Their mission of "Making the Right Choices Easy" is clear in their great products that the entire family can enjoy.
What is the difference between organic and natural?
Organic food is grown by farmers who only use farming methods that strive for a balance with nature and system sustainability. Their methods focus on natural soil improvement and rely on inherent biological systems to produce the highest quality foods with minimal environmental impact. When you see the "organic" label on food, it means your government has certified that the farm and the food grown there have used techniques that:
Do not use synthetic pesticides, herbicides, and soil fumigants.
Do not use sewage sludge for fertilizer.
Do not use any form of genetic engineering (plant, animal, or hybrid).
Do not use artificial growth hormones or antibiotics (in animals).
Do improve the quality and fertility of the soil.
Do protect water quality.
Do reduce soil erosion.
Do rely on natural biological systems for pest and weed control.
Do reduce the impact of agriculture on our environment.
Do produce the highest quality, great tasting food!
Natural food is food that has been grown using similar processes to organic food (using no additives, no preservatives, no coloring, no hormones, no antibiotics, and no other artificial agents) but that has not been or undertaken certification by the government.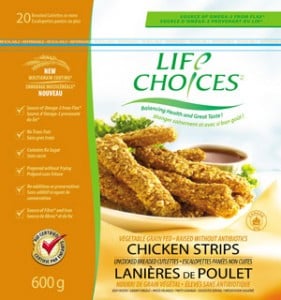 I recently tried out the Life Choices Chicken Strips and they were a hit with my family!  They are made with premium quality chicken which is vegetable grain-fed, raised without animal by-products and raised without antibiotics.  The custom-made *Multigrain Coating; contains flax, whole grains and oats.
Life Choices has done a great job balancing health and great taste!  They have created their chicken strips, chicken nuggets and whole breaded fish fillets to give parents the option of buying a kids' favorite that is tasty, nutritious and convenient.   They are a Source of Omega-3 from flax, contain no trans fats, are prepared without frying, they have no additives or preservatives, and they are a Source of Fiber and Iron – who wouldn't feel good about serving them to their family?
I prepared the chicken strips, and served it with fresh steamed veggies.  It was quick and easy to make, everyone ate it and I felt good knowing that we were eating a healthy meal.   I love the fact that the ingredients are mostly organic and if you look at any one of their labels (which can be found on their website) there isn't a single item that you can't pronounce.  If you're a parent of a kid who loves chicken strips I highly recommend you try these out.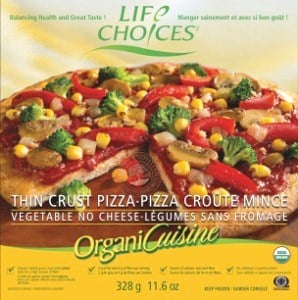 It's great to see a company like Life Choices Natural Foods on the market – a company that cares about health, sustainability and community. They have actually been around since 2002 starting out with just pizzas and frozen entrees. Since then, they've launched a whole series of healthy frozen meals ranging from Mac & Cheese to Italian Meatballs.  When you visit their site, be sure to check out their great selection of nutritious & delicious Recipes.  They even have a $1 off printable coupon on their website to save you a bit of money.
You can find Life Choices Foods in the natural/healthy sections of your store freezers. Products are available at the following locations.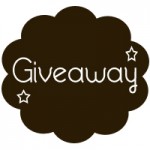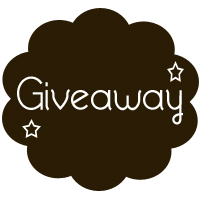 GIVEAWAY: Life Choices Foods are offering ONE Growing Your Baby reader the opportunity to win a gift pack valued at $25.00!  The gift pack includes:
An insulated lunch tote (kids can draw on it!)
3 boxes of Mac 'n Cheese
3 $1-Off Coupons
1 Free Product Coupon for any Life Choice products.
Congratulations to our winner:  Amy!!!
---
[ad]