New parents Lindsay Price and Curtis Stone were spotted keeping fit with their 3-month-old son Hudson while taking their dog for a walk in a local dog park on Sunday (February 5).
The happy couple, who welcomed Hudson on November 6, recently introduced him to the world in US Magazine.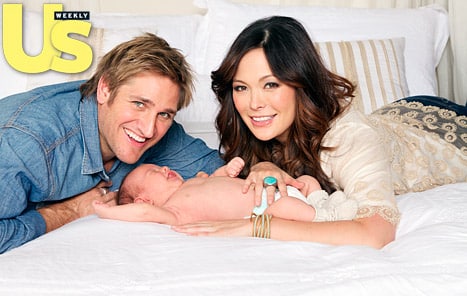 Before his arrival, Lindsay admitted she had never even held a newborn, but her anxiety wore off by the time Hudson arrived.
"There's a reason they give you nine months to be pregnant," says the new mom, who was able to "reach down and pull him out myself" during delivery. "You go through a physical, emotional and spiritual process. Then, the second he was born, it's all unconditional love."

"I was worried about Lindsay until I saw the baby," her boyfriend of nearly two years Stone, 36, tells Us. "He looked like a little fisherman who had just gotten back from sea — but so beautiful to me."
Congratulations to the pair. Their baby is beautiful and it looks like their new routine includes everyone – even the dog!
Curtis pushes a bugaboo donkey stroller.
Related Articles:
{SPLASH}
---