Susan Donoghue went into Ninewells Hospital in Dundee for a scheduled ultrasound during her 20th week of pregnancy. At this stage, most parents walk out with information about the baby's gender and a few beautiful pictures. Susan walked out with something else – the news she would have a smaller-than-normal baby.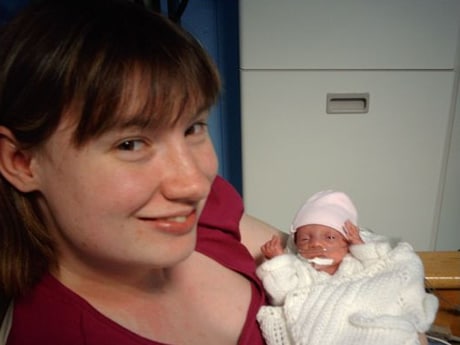 Doctors told Susan that they wanted to continue to monitor her pregnancy and set her up for a scan at 29 weeks. But just days before her second scheduled ultrasound, Susan was rushed to the hospital for preeclampsia (high blood pressure during pregnancy).
While at the hospital, doctors performed another ultrasound. The news this time was worse than the first.
"By this time, I was 28 weeks pregnant, but they said they were concerned our baby was much smaller than she should have been," Susan said. "When they scanned me again, they said it looked like she had stopped growing at 22 weeks. They told us she was still developing, but there was a notch in my placenta that was stopping her from getting the nutrients she needed to grow anymore."
Doctors tried to prepare Susan and her husband, Barry, for the worst. They tried to explain just how small her baby would be.
"The doctors tried to prepare us for how tiny she would look – but even then it was a shock to see her," Susan said. "They asked us if we had seen pictures of tiny babies where the dads had been able to slide their wedding ring over their baby's arm. They then told us our baby was going to be much smaller and it would be likely that Barry may be able to put his wedding ring over her leg."
Doctors also tried to prepare Susan and Barry for the grim prognosis of their baby. She only had a 50 percent chance at survival.
"We were told she ran a high risk of a range of medical complaints that premature babies could suffer – from brain bleeds and breathing problems to hearing and vision defects," Susan stated.
Soon after, Susan delivered her baby via cesarean, after her preeclampsia worsened. But even after all of the preparations, Susan and Barry were shocked to actually see just how tiny their baby really was.
"She was wearing a hat and had been put in what looked like bubble wrap to keep her tiny body warm," Susan said. "[Barry] said she looked like a tiny doll all wrapped up ready in the post."
Susan and Barry decided to name her Amy.
"We named her Amy because we felt it had to be a little name for such a little girl. But every day, our tiny girl grew stronger," Susan said.
But Susan doesn't hide the fact that the first several weeks were a struggle.
"Some days were difficult – like when the doctor told us she had a stomach complaint that might need an operation – or on the heartbreaking days when we saw bigger, older premature babies in the unit lose their brave little battles for life," Susan said. "But the doctors and nurses who cared for Amy were wonderful and we also received support from Bliss, the national charity for babies who are born too small or too soon…We were also told to take her progress one day at a time, which actually made things easier."
At a week old, Susan was finally able to hold Amy. At 11 weeks old, a week before she was due, Amy was able to go home.
Today, Amy is four-years-old. And while still small, Amy proves that amazing things really do come in small packages.
"Height-wise, Amy is roughly the same size as other girls her age, although she is still a much more petite build," Susan said. "I think that a lot of people forget how tiny she was at birth, but it is something we will never forget."
But Amy doesn't let her size slow her down.
"She is not a girl who likes to sit still and is always dancing about, or wanting to go out on her bike, or running around," Susan said.
She's even helping her father, Barry, prepare for this year's London Marathon. He is raising funds for the very program that helped them during their daughter's first several weeks of life, Bliss.
"When Barry is warming up before he goes out on runs, Amy is always right there beside him, copying her dad and doing warm-up exercises too," Susan said. "Amy and I are going to travel down to London and watch Barry run the marathon for Bliss. And I know that cheering her daddy on will give him an extra lift. She is our little miracle and we are so proud of her."
Related Articles: