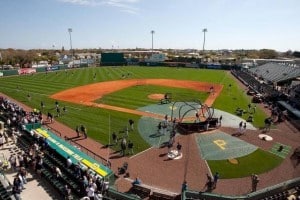 Latasha Renee Kirk loves the sights, sounds and food of the Mckechnie stadium in Bradenton, Florida. And apparently, her 'little slugger' shares her passion for the field. In fact, he loved it so much that he decided to make his grand entrance at the front of the stadium, before an ambulance could arrive.
"He wanted to see what all the noise was about," said 29-year-old, now mother of three, Latasha.
Latasha had decided to attend the special event the Pirates were holding for their season ticket holders when her contractions started. But she wasn't due until April 1st, so she shrugged them off as Braxton Hicks contractions and decided to enjoy her day at the field. But just as she started enjoying the cheeseburger she had just ordered, the contractions got more intense.
Latasha walked around and tried some breathing exercises. Finally, she realized that she needed to tell someone that she might be in labor.
It would be Trevor Gooby, the senior director of the Pittsburgh Pirates' Florida Operations who responded to her need for help. He pulled up a wheelchair and ushered her to the front of the stadium to wait for the ambulance. He tried to assure Latasha that the baby wouldn't come before the ambulance arrived, but by the time Latasha reached the front of the stadium, she told him that there was no way she could wait; it was already too late.
Latasha was right, of course, and Gooby was the 'little slugger's' catcher. After the little boy was born, Gooby wrapped him up in towels to keep him warm until paramedics arrived.
"He fooled me," Latasha said. "He came out saying, 'It's April Fool's Day, Mom. I am here.'"
The Pirate's newest fan, appropriately named McKechnie K'Marion Brand, after the stadium he was born in, has already received a lot of attention since his birth. He's been a hot topic on sports talk shows and has even received a lifetime membership to the Pirate's Kids Club. He was also awarded with a Pirate's hat, a Marauder's onsie, sneakers and some baby supplies.
Latasha has already planned her son's very first outing; she plans to take him to a spring training game. She's also devising a plan for his first birthday, which will take place at – you guessed it – the stadium.
But little McKechnie, born at 5 pounds, 2 ounces, won't be attending his first game for a while. Since he was early, he will have to stay in the hospital for a couple of weeks, which won't make his two older sisters very happy, according to Latasha. They are already ready to be reunited with their mother and meet their new baby brother.
Related Articles:
---
[ad]