The U.S. Consumer Product Safety Commission, in cooperation with Little Tikes, today announced a voluntary recall of more than 1.7 million additional Little Tikes® Workshop and Tool Sets (about 1.6 million toy workshop sets and trucks with the same toy nails were recalled in August 2009). The recalled workshop and tool sets have oversized, plastic toy nails that can pose a choking hazard to young children.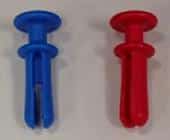 The firm has reported two additional incidents, occurring prior to the August 2009 recall, of children who choked when the toy nail became lodged in their throat. Both children were treated in a hospital and made a full recovery.
This recall involves the toy nails sold as part of 11 additional models of Little Tikes® Workshop and tool sets listed below. The toy nails are oversized, plastic, and about 3 1/4 inches long by 1 1/4 inch in diameter. The nails are either red or blue and have a large round head; below the nail head there is a plastic ridge, slightly smaller than the nail head and about 1 inch in diameter. The model number may be found on some of the products.
Consumers should immediately take the toy nails away from young children and contact Little Tikes at (800) 321-0183 between 8 a.m. and 8 p.m. ET Monday through Friday, or visit the firm's website at www.littletikes.com for free replacement toy nails.
| Model # | Name | Picture | Sold |
| --- | --- | --- | --- |
| 4491 | Workshop | | 1994 – 1995 |
| 4601 | Deluxe Workshop | | 1996 – 1999 |
| 0827 | Carry Along Workshop | | 1997 – 1998 |
| 4765 | Revv 'n Roar Mechanics Workshop | | 1997 – 1999 |
| 0627 | Carry Along Tool Caddy | | 1996 – 2002 |
| 4174 | Home Center Workshop | | 2001 – 2002 |
| 4789 | Workbench | | 1997 – 1998 |
| 4071 | Little Tikes Workshop | | 1990 – 1994 |
| 0014 | Kohl's Workshop Tool Set | | 2000 |
| 4497 | Menard's Home Center Workshop | | 2003 – 2004 |
| 4201 | Action Power Workshop | | 2002 – 2004 |
Related Articles:
---