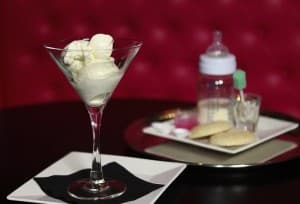 A London Ice Cream parlor has served up something different by offering ice cream made from human breast milk. The new ice cream treat has stirred up a lot of talk about whether this is fun, or freaky.
Icecreamists, a London based ice cream parlor, recently sent out a calling to the lactating moms of the UK. They would pay £15 ($24) for every 10 ounces of breast milk moms were willing to give. That milk, rather than being donated to babies in need, then went into the newest flavor of ice cream the parlor sold: Baby Gaga.
One mother, Victoria Hiley, has already donated one liter of milk to Icecreamists to use in their new creation, and many more moms are ready to follow. The milk is screened for safety, then mixed together with Madagascan vanilla pods and lemon zest to create the new flavor. According to Hiley, she's just getting the most from her assets.
"What could be more natural than fresh, free-range mother's milk in an ice cream?"
While some people are intrigued by the new flavor, there are just as many people disturbed by the thought of breast milk ice cream. But the Icecreamists are hardly alone in their enterprise. In recent years there have been a increase in some to use breast milk in everything from cheese to desserts, selling these treats to a public waiting for fresh new tastes.
Matt O'Connor, who runs Icecreamists, says he was looking for a way to change up ice cream in a way that had not been done before.
"No-one's done anything interesting with ice cream in the last hundred years," he said. "Some people will hear about it and go, 'yuck,' but actually it's pure, organic, free-range and totally natural."
– Summer, staff writer
Related Articles:
---
[ad]