When we're pregnant, we do our best to take care of our ever-changing bodies and the baby we are growing. We try to keep the germs at bay and stay away from anyone who may be sick. But sometimes all the prevention in the world doesn't stop a sickness. For one Long Island woman, she thought that she had come down with something, with emergency room doctors confirming that she had bronchitis, despite the fact she was coughing up blood. But her case was far from ordinary.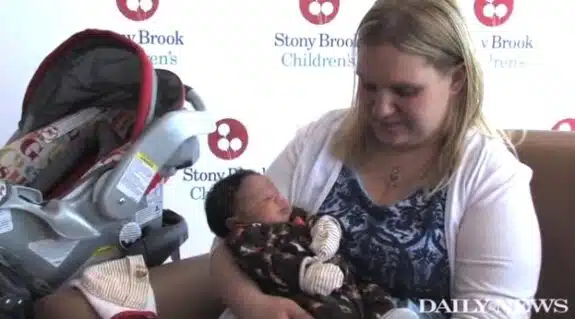 Sharon Savino, 25 of New York had been pregnant with her third child. In the weeks leading up to Christmas last year, she had suddenly developed a bad cough, in addition to feeling heavily fatigued all the time as she neared the end of her second trimester. Sharon told the New York Daily News, "I thought it was just from the pregnancy," until the day that she began coughing up blood. Scared and confused, she paid a visit to her local emergency room, where doctors sent her home with medication for bronchitis, but had no answer as to why she was coughing up blood.
When she began coughing up blood more frequently, Sharon decided to get a second opinion and went to her obstetrician's office at Stony Brook University Hospital, where an entire battery of tests was done to find the source of the blood. The tests revealed a shocking discovery – the mom of two had an egg-sized tumor on the left side of her heart.
The new mom says,
"I couldn't believe it, I just never expected I would hear that, especially when I'm so young. I was shocked."
The tumor, an atrial myxoma had presented a serious health threat, says Dr. James Taylor, chief of the division of cardiothoracic surgery at Stony Brook. If Sharon hadn't sought the opinion of her obstetrician, the tumor could have ended up blocking her mitral valve, which can cause sudden death. It was also possible for segments of the tumor to break free and travel throughout her bloodstream causing other health threats such as stroke, blood clots or organ damage.
Dr. Taylor noted that the tumor wasn't cancerous,
"It's not a malignant tumor – not invading, but because of its size it causes problems inside the heart. Something needed to be done during that hospital visit."
The hospital physicians faced a very difficult choice to make; they could perform the open-heart surgery on the nearly seven-month pregnant Sharon to remove the tumor, or they could deliver her child preterm and wait until she healed from the cesarean section before doing the surgery. Ultimately, the doctors had decided that it was too risky to wait.
On Janurary 17th, Sharon underwent open-heart surgery while her baby boy remained in utero. This type of open-heart surgery is an common one, but when performed on a pregnant woman, there are many risks involved. Sharon's doctors scoured medical literature searching for other cases like hers. They found that there were only 17 other cases like hers, all over the world. One of the machines used during surgery, the heart-lung bypass machine could cut off the blood supply to the fetus, making the heart rate decline in a rapid manner. In some cases, stress can even induce labor. Dr. Taylor says.
"What we were trying to do is reduce the amount of time on the heart-lung machine and reduce the amount of time her heart was arrested, when we actually operate inside of the heart."
Most of the atrial myxoma patients who undergo open-heart surgery spend approximately 45 minutes on the heart-lung bypass machine and anywhere from 25 to 30 minutes with the heart stopped during the surgery. Dr. Taylor says "For Sharon, we were able to reduce that to 18 minutes on the machine with her heart arrested for only 12 minutes." Dr. Gerald Quirk, Sharon's obstetrician, monitored the baby while the surgery was being performed. Quirk comments that she was a brave patient, saying
"She's a low-stress person, she knew what was going on without panicking and without being distraught. She asked the appropriate questions."
Sharon remembers feeling very calm, up until the time right before she went into surgery. She recalls "Then it hit me, and I started crying. My mom was there, she started crying. I guess it wasn't real to me before then." She remained in the hospital for a week following the the surgery. Doctors monitored her and watched for signs of preterm labor, which can sometimes occur after stressful events. She was able to spend the final two months of her pregnancy at home with her family, anxiously anticipating the arrival of her newest bundle of joy who was due to be delivered via c-section during the month of April.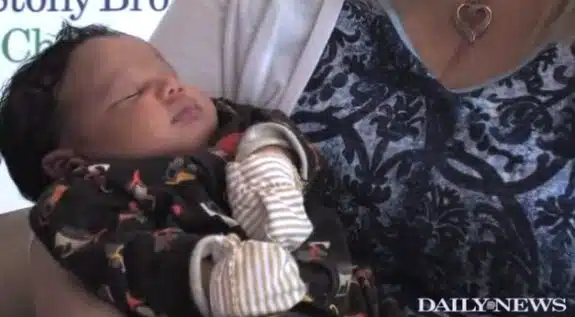 Sharon remembers how she felt during those last months, saying,
"It was rough, I couldn't wait to get him out just to see that everything was okay. I was a little nervous not knowing."
To the relief of everyone, baby Maximus arrived on April 2, weighing in at 7 pounds 3 ounces, and totally healthy. She recalls her feelings after he was born, saying "I thought, 'I can't believe I made it', He's healthy and I'm still going." Now, Sharon and her partner Russell Daniels, 27 are settling back into a normal routine at home, along with their other children Russell Jr., 4 and Shallyssa, 2. Sharon says that she will never forget the harrowing ordeal that she went through to bring little Maximus into this world, saying,
"I felt relief, to know he was healthy and survived the surgery, It's still amazing."