A fresh, fun, funky new concept for women's and girls' t-shirts, Lotty Dotty has brought a whole new set of clothes for your beloved paper doll!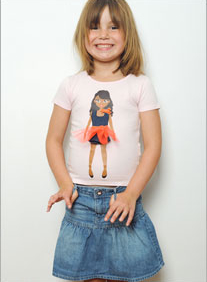 Inspired by the paper dolls of childhood, Shevanne Helmer and Maya Persaud, the designers behind Lotty Dotty, have created an interactive t-shirt the look of which can be changed as easily as your mood! The front of the t-shirt is screen printed with a doll, similar in style to the age-old paper doll, and her look can be changed with 3-D detachable clothes!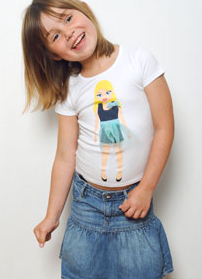 Each doll is wearing a sewn-on Velcro bathing suit, to which the clothes can be attached. The clothes are all designed by unknown, yet up-and-coming, young designers, and her "outfits" have a look of 'high-fashion' about them, with satin frills and rhinestone gems. Currently, the Lotty Dotty line has two main products: t-shirts for women and girls, and a separate clothing line for the doll. They also have a special t-shirt to support Susan G. Komen for the Cure®.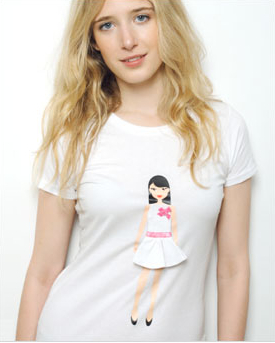 Essentially creating multiple t-shirts in one, with each shirt being made from 100% organic cotton, and using as many recycled materials as possible, Lotty Dotty is doing its part in supporting responsible consumerism.
Totally unique and fabulously funky, Lotty Dotty is bound to appeal to fashion-conscious mamas and their little girls! – Belinda, Staff Writer
---
Related Articles: