As the mom of two boys, we have never really thought of getting a doll house. But as we get ready for the Holidays I thought it would be a great change for them.  We are seriously on truck and building tools overload over here.  Plus, they are great role players and love cooking in the play kitchen so I though this would just be an extension of that!
To support our project we were thrilled to review Lundby's smaland doll house. A fixture in toys stores overseas for almost 70 years, Lundby has just re-entered the North American market.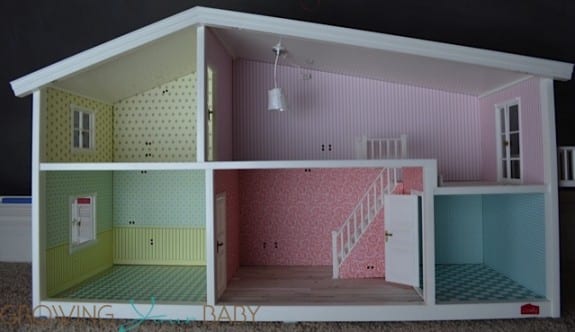 Our house arrived in a flat box that led me to believe there would be a lot of work ahead, but thankfully putting it together was surprisingly easy. All of the walls slid together and then the front screwed in to keep everything in place.
Lundby's smalland doll house has 5 and a half rooms, all of which are decorated with modern wall coverings and flooring. Every room has 'electrical plugs' on the wall to allow kids to illuminate the space. My boys were fascinated by this and loved trying to figure out where they were going to put their lights.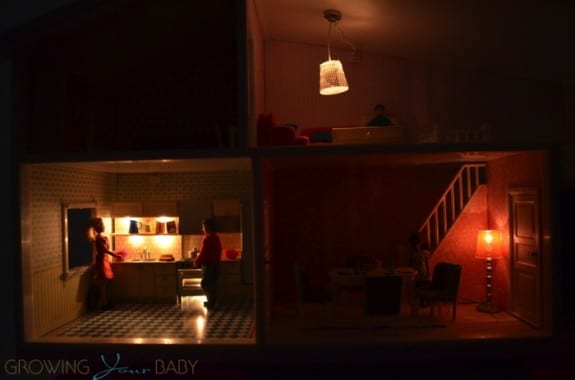 The layout of this house has been in Lundby's collection for more than 60 years.  In 2011 the company refurbished the design and added hinged windows and a balcony with doors that open and shut.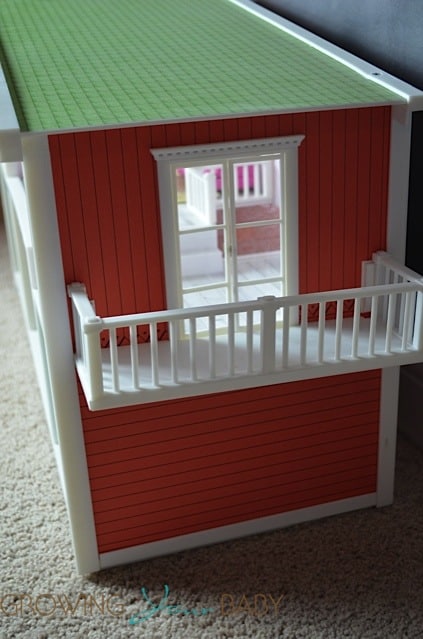 I didn't have a doll house as a kid so customizing it was exciting to me.   Lundby has an incredible selection of modern and classic furnishings for their doll houses. If you can dream it – they probably make it. Tiny cribs, changetables, showers, jacuzzis, patio furniture, pet cages, folliage for the garden, the list goes on and ON… I will admit that I have spent many hours online looking for furniture for our house.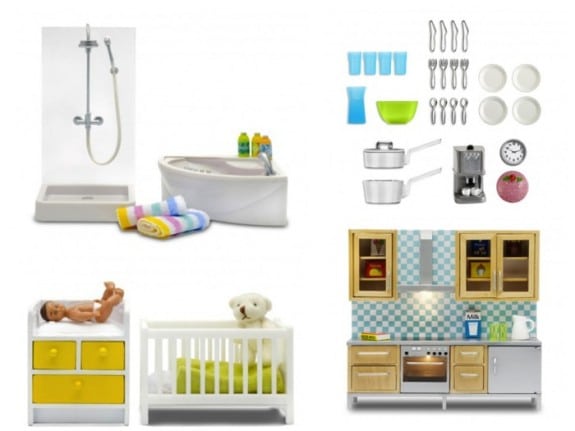 I am a little obsessed. But we need to pace ourselves. Rome wasn't built in a day. So we currently have a kitchen, dining room, sitting room set and a friend passed us a bedroom set that her daughter was no longer using.
The sitting room was first to arrive and it is adorable. The hot pink couch matches the pink and white striped walls perfectly. This set came with a carpet, couch, chair, 2 pillows a coffee table with 2 books and a throw. It fills the mid section of the top floor quite nicely.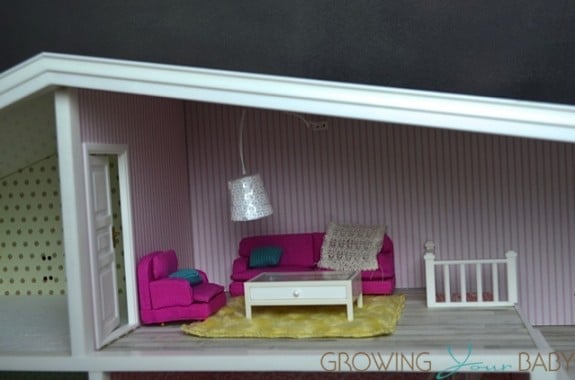 The dining room consists of a carpet, 4 chairs and a table. To fill the table we have the Dinner Service Set which comes with 4 plates, cups, forks, knives, spoons and a serving bowl. In addition to the table set we have a floor lamp that sits in the corner. The room still looks a little bare so we are looking to add a bookcase to the back of the room or the corner fireplace they offer, and also some art to the walls.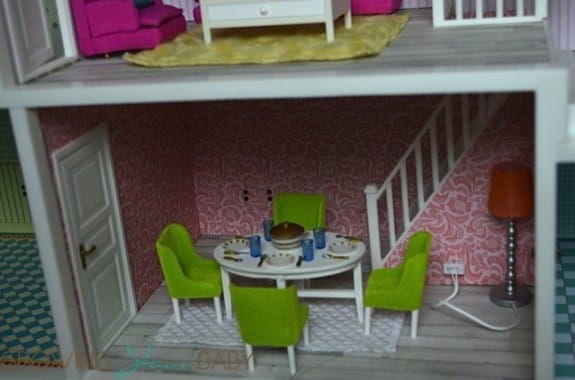 My favorite set is the kitchen. So modern and beautiful, it is everything you would look for in a designer kitchen.  Comprised of two sets, the Fridge & Stove Set, and dishwasher & sink set, this full ensemble fills the whole back wall of the room. When plugged into the outlets on the wall, the oven and the lower sections of the cabinets light up.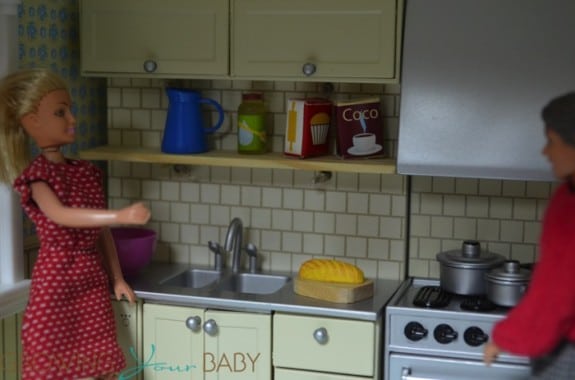 The room that is completely lacking is the bathroom. But don't worry we have plans. I'm actually torn between the corner jacuzzi or the clawfoot bathtub. Both sets come with standup showers and there are also a couple vanity sets that also include the toilet. I mean, The Littles (that's what our doll house family is called) can't live without a toilet…
I have put together a small video to show our house. I hope to add to it in the coming months as we fill up the other spaces in the house.
In the meantime, please visit Lundby's site and check out their selection of homes. They have a beach house that is to. die. for. It has a pool and a beautiful sun deck.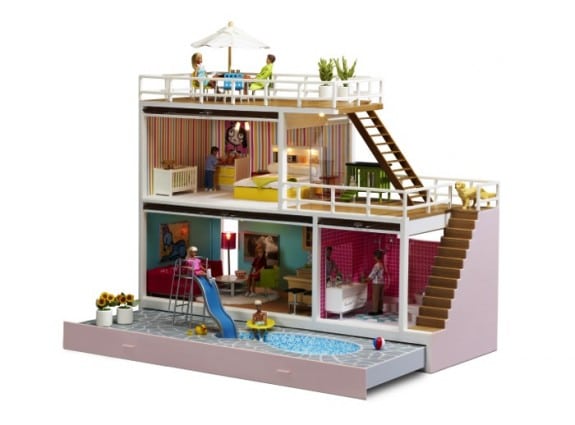 This house also has an additional floor that can be added as well as an additional garden.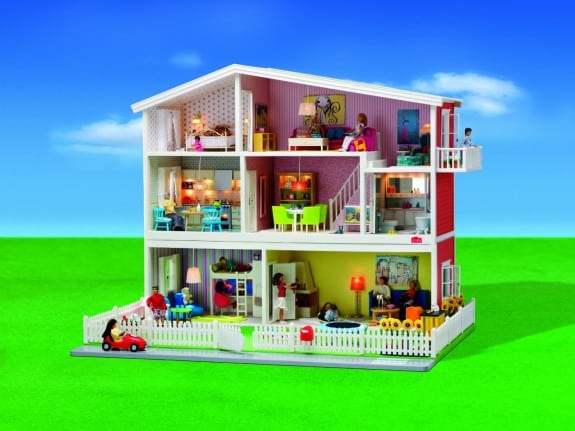 I highly recommend Lundby's smaland doll house for both boys and girls.  I won't lie there have been superheros and GI Joes playing in our house.  They are, however, making dinner and watching tv.  After all imaginary play is imaginary play.