Can you imagine being sick in the hospital and having your own chef preparing meals for you? There is a growing amount of hospitals in the U.S. that are catering to patients who want the same luxury that they would find in a hotel.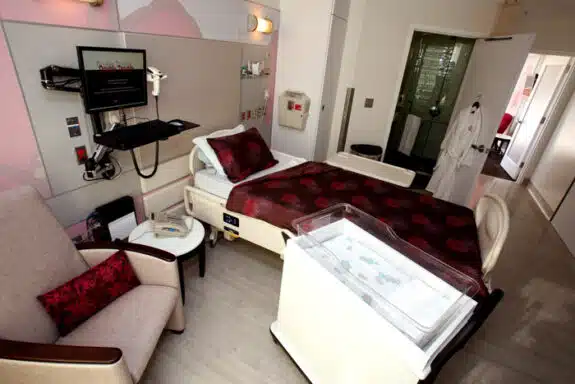 Jacuzzis, marble bathrooms, personal chefs and valet parking are just a few of the amenities that some of the hospitals are offering. Even though these room cost hundreds of dollars per night patients are willing to pay in order to recover in comfort. In L.A. at Cedar Sinai Hospital new moms enjoy gourmet meals, copious wine, fluffy robes, superior bed linens, and a doula who caters every need. Baltimore John Hopkins Hospital has waitstaff in tuxedos serving gourmet food from a daily menu. Ralph Lauren Sheets, queen size bed, Dvd player and a private dining room await at The Methodist Hospital in Houston.
While The U.S. in definitely in the luxury game the leaders are overseas.
For sheer luxury, the place to go is Asia. Singapore, with Gleneagles and Mount Elizabeth Hospitals, was the pioneer in ultra-luxurious accommodations, offering rooms that look more like those in a five-star hotel than a hospital. In 2003 and 2004, Mount Elizabeth and Gleneagles Hospitals won the Superbrands award, an accolade that measures market dominance, longevity, goodwill, customer loyalty, and overall market acceptance. (The rate of nosocomial infections doesn't enter into the judging criteria.) More recently, the Raffles Hotel Group has branched out to form the Raffles Medical Group, apparently on the theory that if you can manage a luxury hotel that provides cooking classes and a health spa, then including cataract surgery and a craniotomy are minor additions.
This all sounds fabulous to me. I only have one question. Where the heck is Canada in all of this? Last year I spent almost a month in the hospital and struggled through terrible food, the smallest T.V. EVER, a quad room and a shared bathroom. I heard mention of a suite down the hall but I'm not sure it was available for mom's who were staying for a bit. Because we don't have to pay for our hospital visits in Canada there is no need to make them overly nice. In the U.S. some hospitals are privately owned so a nice suite, valet or more comfortable beds can give them an edge over another hospital in the area.
---