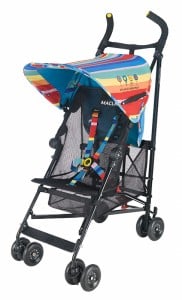 Known for their unique designer strollers, Maclaren, today, introduced their latest Object of Design – The "Dylan's Candy Bar" Buggy.
Launching this Spring, the rainbow-colored volo features a striped hood; 5-point safety harness; coordinating seat liner; and candy-print raincover, which invokes the vibrant colors of Dylan's Candy Bar. The chic black frame of this Maclaren Buggy serves to further highlight the striking Dylan's color palette.
The Dylan's Candy Bar Buggy will retail for $150 and is based on the Volo frame, which is Maclaren's lightest and simplest for life on the go!
Specs:
Basic Weight: 4.0kg / 8.8lb (without hood, shopping basket or rain cover)
Carrying Capacity: Up to 15kg / 55lb (US)
Appropriate From: 6 months
Recline: One position
Wheel Size: 11.4cm / 4.5in
Hood: Square, extra large for maximum coverage
Five point harness
Washable Seat
---
Related Articles:
---