Actress Maggie Gyllenhaal teamed up today with Fisher-Price Inc., to unveil the company's new Precious Planet™ Collection of baby gear and newborn toys and to announce the company's $250,000 donation benefiting the Wildlife Conservation Society (WCS).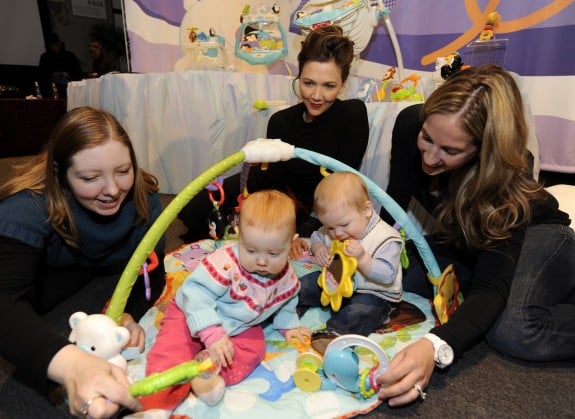 The event, held at the Central Park Zoo, launched the adorable Fisher-Price Precious Planet line of must-have baby gear for new parents and their little ones.

"Fisher-Price is such a big part of everyone's childhood and I am so happy to join forces with them in presenting this generous donation in support of the Wildlife Conservation Society," says actress Maggie Gyllenhaal.

"We are very pleased to unveil our new Precious Planet collection and present our donation to the Wildlife Conservation Society," says Brenda Andolina, Director, Public Relations and Brand Marketing, Fisher-Price. "One of our most popular and enduring toy design themes revolves around the lovable and curious world of animals. We're very appreciative to organizations like the WCS that are passionate about preserving the animals and habitats we love to bring to life in our toys."
The new Precious Planet Collection collection includes a wide selection of baby gear including a high chair, gym, cradle swing, bouncer, potty, mobile, tub, bedding and more. The line also features comforting fabrics, activities and colorful, adorable baby animals like monkeys, giraffes and polar bears. The Precious Planet Collection retails for $12.99 – $129.99 and is appropriate for newborns and up.
---
[ad]