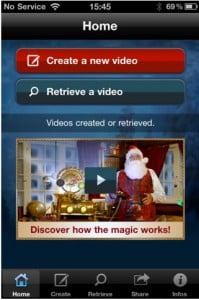 While looking through the app store yesterday I came across a free app created by Bell Canada called 'Magic Santa'.
The description for the app simply said, 'Fill out the magical form about the recipient and Santa will send back a nice personalized video.'
Not expecting much, I loaded the app and entered in information about my son. Within a minute the software notified me that the video was ready so I called the boys over to let them know that Santa had sent over a video for them.
Praying that it wouldn't be some shotty digital cut and paste, I was pleasantly surprised by the message the jolly guy had sent.
The video, which is about 3:45 features Santa in his office, is done really well. He uses all of the information that you input seamlessly, leaving little ones to believe that he really created this video just for them.
Both of my boys were really excited and impressed when he 'knew' little facts about them.
As specified by you, he also only 'guarantees' one present, which gets you off the hook from long lists set out by little ones.
The message also has some cute little details that give kids a glimpse at how Santa stays organized and also keeps track of what's happening with all of the kids in the world.
For a free app, this video was a definitely bright spot for the boys yesterday. I highly recommend it to create some pre-Christmas excitement.
Related Articles:
Personalized Holiday Ideas ~ 7 Unique Photo Gifts!
---
[ad]