An associate professor in midwifery at Nottingham University is speaking out about his views on childbirth and what he calls the 'epidural epidemic'. He believes that more women should endure the pain of childbirth because anesthetic drugs undermine the mother's bond with her baby.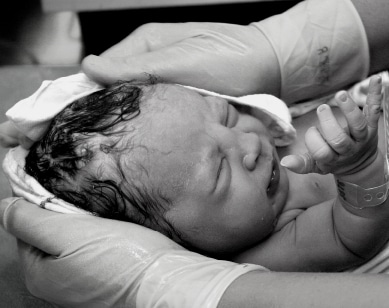 Dr. Denis Walsh said the agony of labour should be considered a 'rite of passage' and a 'purposeful, useful thing'.
The pain prepared women for the demands of motherhood, he argued.
Dr. Walsh criticized the overuse of epidurals saying maternity units should abandon routine pain relief and embrace a 'working with pain' approach.
Moms requesting an epidural injection or spinal anesthetic have doubled in 20 years to around 37 percent.
'A large number of women want to avoid pain, but more should be prepared to withstand it. Pain in labour is a purposeful, useful thing which has a number of benefits, such as preparing a mother for the responsibility of nurturing a newborn baby.'

'It has never been safer to have a baby, yet it appears women have never been more frightened.'
Dr Walsh warned that epidurals increased medical risks such as prolonged first and second stages of labour and the chance of the baby's head being in the wrong place.
They also led to lower rates of breast-feeding. He added:
'Emerging evidence shows that normal labour and birth prime the bonding areas of the mother's brain more than Cesarean or pain-free birth.'
The Doctor is now calling on the Health Service to abandon routine pain relief and encourage women to use yoga, hypnosis, massage, support from their partners, hydrotherapy and birthing pools as natural ways of alleviating pain.
He said labour pain was a timeless component of motherhood, but warned:
'There has been a loss of rites-of-passage meaning to childbirth, so pain and stress are viewed negatively.'
I think this doctor may have read too many books.
His information is interesting, but he forgets to mention that allowing a hysterical mom who can't manage her labour pains to have an epidural could give her the boost she needs to have a successful delivery. Nothing can fully prepare you for childbirth. It is different with each child.
Quoting facts from a book doesn't hold up when your body is being pelted with a series of 'electric shocks' each 1 minute apart.
Had he of been in my delivery room, he would have gotten the 'Wrath Of Mommy'.
Related Articles: