Chic mama! Pregnant model and actress Molly Sims was spotted wearing a belly hugging red striped dress as she left a therapy classs in Los Angeles on Wednesday(January 21).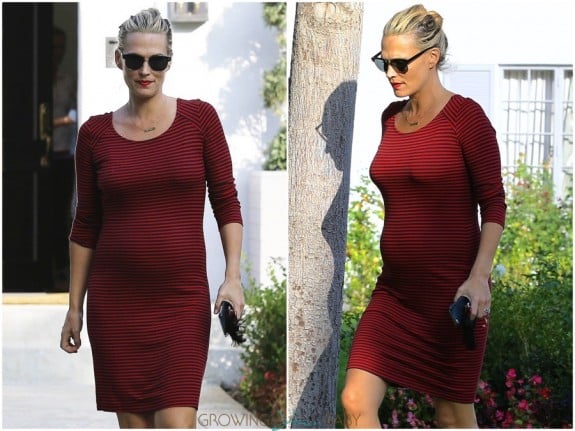 Pregnant with her second child, a girl, Molly is also the cover girl on Fit Pregnancy for their February/March issue.
Now 41, Molly told the magazine she doesn't regret becoming a mom so late in life,
"I would have been a good mom earlier, but I didn't find my prince until I was older. I don't regret starting later. Everything I've wanted to do, I've done. I lived in Europe for six years, waitressed, worked at a book company and in a law office."
This pregnancy, however, has had its challenges.
"When I was pregnant with Brooks, I started feeling ill at around 4 p.m. every day during the first trimester," she explained. "But with this one, I felt hungover from the time I woke up to the time I went to sleep! I'm 41, so I had an ultrasound and blood test to make sure everything was OK. We waited until we got the results at 14 weeks to tell anyone, but my in-laws came to visit early on and they said I looked green!"
More laid back this time around Molly admitted that with this pregnancy, she "learned not to freak out over every single symptom, and now I know exactly how many onesies I need when the baby arrives. I don't have the anxiety of being a first-time mom. Moreover, I know to wear my Spanx tights when I go out, and my T.E.D. compression hose when I fly to prevent blood clots."
{FAME/FLYNET}
---
[ad]