The nursery rhyme used to be "first comes love, then comes marriage, then comes the baby in the baby carriage." But many parents today are changing that up, putting kids before marriage or skipping marriage entirely.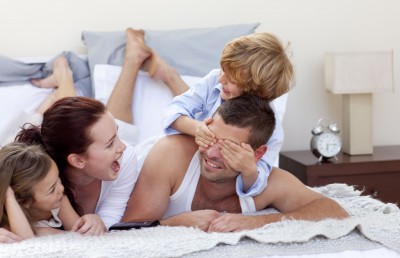 According to data collected in 2007, at least 40 percent of births in America are to unwed mothers. While the cultural image of an unwed mother is one that is young and alone, the reality is that many women in their 20s and 30s are raising children in long-term relationships with no plans to marry.
One couple, Nathan Garland and Brianne Zimmerman have been together since 2001. They live together, raise a child together, and were in no rush to become officially married. After eight years as a couple, they finally decided to wed.
"We just thought it was a piece of paper and it wasn't that big a deal to us. We lived like we were married already. So we split bills and took care of each other."
Even some couples who chose to marry saw it more as a benefit than a requirement. One mother, Colleen Segbers, admits that she married the father of her daughter for less than romantic ideals. Marriage allowed her to be on his insurance. Though she says she loves him, marriage was not a requirement for that love.
"We didn't have a wedding. I don't have a ring, I don't have a dress. We just signed the paper and I was like, 'OK, cool.'"
The idea that a couple can be happy, committed, and parents without wedding rings has many celebrity followers. Brad Pitt and Angelina Jolie, Nicole Richie and Joel Madden, Johnny Depp and Vanessa Paradis, and Goldie Hawn and Kurt Russell have all put the idea of marriage far after kids.
It is unlikely that the centuries-old tradition will die out any time soon, even if some couples do not see it as something necessary now. Despite the changing times, there are still parents who think marriage is an important part of a committed relationship.
"People who say that they don't want to get married, I think they're lying to themselves," Lexi Campburn says as she chases her son Zane around the bowling alley.
Couples that choose not to get married have their own reasons for not doing so. Some are children of divorced parents who want to make sure they are in the right relationship first. Some see marriage as an outdated institution that they do not want to be a part of. Some couples, such as Brad Pitt and Angelina Jolie, are waiting on marriage equality before joining the marriage ranks. – Summer, staff writer
Related Articles:
---