Even though it was 70 degrees in sunny California yesterday, residents were still able to strap on their skates and enjoy some time on the ice pad like us Northerners.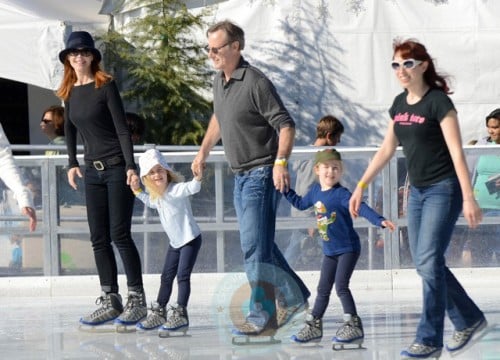 Marcia Cross and her husband Tom took advantage of the rink, which will only be open until Jan 16th in Santa Monica, and treated their 4-year-old twin daughters, Eden and Savannah, to an afternoon of ice skating.
The actress was all smiles as she whipped around the ice. She was raised in Massachusetts so it's quite possible that she did some skating when she was younger. The girls, however, were a little unsure but got some help from their parents.
Soon Marcia will have a lot more time to spend with her girls. Desperate Housewives, the show she stars on, is in the last few months of it's final season. We are looking forward to see how creator Marc Cherry ends the series!
---
Related Articles:
{INFphoto.com}
---